TGG Names Ruff CEO; Garrett to Take Executive Chairman Role
Tuesday, February 10, 2015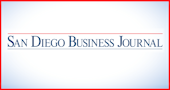 San Diego-based TGG, a provider of outsourced accounting and business advisory services, announced that Andrew Ruff has been appointed as chief executive officer effective immediately. Matt Garrett, former CEO, is now executive chairman of the company.
"Andrew Ruff has distinguished himself through his work as president and CFO of TGG, and in his role providing consulting CFO services to our clients," said Garrett. "He will work closely with me to build upon the strong foundation of growth already established and to build a strong future for our clients and employees. The foundation is in place for Andrew and me to leverage TGG's service model to broaden our reach beyond San Diego."
TGG also announced that Seth Burns is joining its executive ranks as consulting CFO. The company said Burns' prior experience includes CEO/CFO of Biogas & Electric LLC; controller at CampusLink College Marketing Inc.; controller/CFO at Global Village Kids LLC; and founder/CEO of Big Yank Sports Inc.
"Seth's executive-level experience growing companies adds another dimension to the value TGG brings its clients," Ruff said. "His insights and knowledge will undoubtedly help our clients achieve their business goals."