Company Rebrands Itself as Eastridge Workforce Solutions
Sunday, February 8, 2015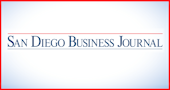 The Eastridge Group of Staffing Cos. rebranded itself to become Eastridge Workforce Solutions.
The San Diego firm says as the economy improves, finding and retaining talent is a primary challenge for employers, and that's its focus.
"Given today's intense competition for talent across all business sectors, our rebrand enables us to continue providing top-notch guidance to candidates while also offering a strategic approach for companies based on analytics to manage their growing teams," said Seth Stein, president of workforce recruitment for Eastridge Workforce Solutions.
To assist businesses in finding the right match for positions, the company developed proprietary management software to provide real-time analytics on requisitions as well as supplier performance for companies.
EWS said it has been in business for 43 years and was ranked by Staffing Industry Analysts as in the top 1 percent of firms nationwide, placing about 18,000 candidates and processing more than 250,000 paychecks each year.
It has offices in Orange County, Los Angeles, San Francisco, Nevada, Arizona, Texas and New Jersey.
EWS did about $65 million in gross sales in 2013, and had 126 local employees, according to the Business Journal's 2015 Book of Lists.