ECONOMY: DESPITE LAYOFFS, REGION SEES CONTINUED GROWTH
When it Comes to Tech Jobs, San Diego Outpaces Nation
Friday, February 6, 2015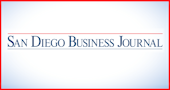 San Diego managed to buck a national trend last year that saw the elimination of more than 100,000 high-tech jobs. Even though the region sustained several high-profile layoffs, it was able to create more jobs to make up for the cuts.
A recent report from Challenger, Gray & Christmas Inc., a Chicago-based executive placement firm, showed the U.S. tech sector cut 100,757 jobs in 2014, including about 48,000 in California.
These losses involve jobs in the fields of computers, electronics, and telecommunications and do not include life sciences or biotechnology.
Yet, in San Diego, the county added a net 44,500 jobs, up 3.3 percent over the prior year, a gain that helped to push the unemployment rate down to 5.2 percent, according to the state's Employment Development Department.
One sector, professional and business services, contributed nearly 16,000 jobs to the net gain. Seventy percent of those positions, or 11,200, were created in the segment called professional, scientific, and technical services, according to the EDD.
Seth Stein, president of workforce recruitment for Eastridge Workforce Solutions in San Diego, said while this region has seen some job dislocation in the tech sector, the overall results last year were positive.
Innovation Driven
"It's extremely competitive here in San Diego for top (technology) talent," Stein said. "There's a lot of growth in this entrepreneurial and innovation economy, and it's happening across a lot of industries."
The Challenger report cited heavy cuts from some of the largest tech employers in the nation, including 18,000 from Microsoft, and 16,000 from Hewlett-Packard. Locally, the largest private employer, Qualcomm Inc., announced in December it would cut nearly 300 jobs in the state, including 178 locally.
Last year, Qualcomm reported having 13,700 employees in San Diego and more than 31,300 total employees worldwide.
Local jobs were lost when three large San Diego tech firms relocated their headquarters to Texas: The Active Network, Omnitracs LLC., and Websense Inc. Also in 2014, Sony Electronics and Entropic Communications reduced their workforces by 1,000 (400 in San Diego) and 200, respectively.
Because the state doesn't track the companies creating the new jobs, it's difficult to pin down which firms did the most hiring last year.
ViaSat Inc., a maker of satellite equipment, increased its total staff by about 400 people to 3,300, including more than 1,700 at its Carlsbad headquarters.
Cymer LLC, an ASML company, a Rancho Bernardo maker of laser equipment used in the manufacturing of semiconductors, said it added about 80 people to its local staff.
Lynn Reaser, chief economist at Point Loma Nazarene University's Fermanian Business & Economic Institute, said the varying jobs picture for California depends on the industries.
"Technology jobs are growing rapidly in startups, small firms, middle-size firms, and large firms," Reaser said.
Iboss Inc., a San Diego IT network security business renovating much larger space near the University of California, San Diego, doubled its workforce over the past year, adding about 60 employees to bring the total to 120, said iboss CEO Paul Martini.
"When we get into our new space (near UCSD), we'll probably add at least 50 more employees on the low end, or about 100 on the high end by the end of this year," he said.
Stein of Eastridge said a cursory review of job openings for a single job title, software engineer, on Indeed.com yielded 1,864 listings for San Diego.
Among the companies with the most openings for this position are Northrop Grumman, General Atomics, ServiceNow, Hewlett-Packard, and BAE Systems.
Skills in Demand
Skilled technology workers who lost jobs because of a downsizing or a business leaving town usually aren't unemployed for long, he said. "There's very strong demand for their experience, and they're picked up very, very fast," he said.
The San Diego Workforce Partnership, the regional job training agency, released a report in October that found the area's information and communications technologies sector employed about 42,000 workers, and the sector grew 9.7 percent over the past 10 years. Over the next five years, the sector should grow by an additional 9.8 percent, the report stated.
The most common employers in this sector are government, management and administrative services, and health care. Median wages paid were $36.69 an hour, or more than $76,000 annually.
Stein said even when some companies downsize skilled workers don't stay unemployed very long.
In fact, for those with the right skills and experience, it's more common that these folks are getting multiple and counter salary offers because of the fierce competition here, Stein said.