Union Bank Opens Full-Service Office in La Jolla
Wednesday, February 4, 2015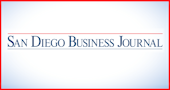 Union Bank has opened a new full-service office in La Jolla Village Square, 8715 Villa La Jolla Drive.
The new branch, Union Bank's 59th in the county, is managed by Ernesto Hernandez Jr., who has 11 years of banking experience and previously served as branch manager for the bank's Ocean Beach branch.
To mark the official opening of the branch, the bank donated $7,000 to three local nonprofits.