Spire is Latest Attraction Proposed for Downtown Waterfront
Wednesday, February 4, 2015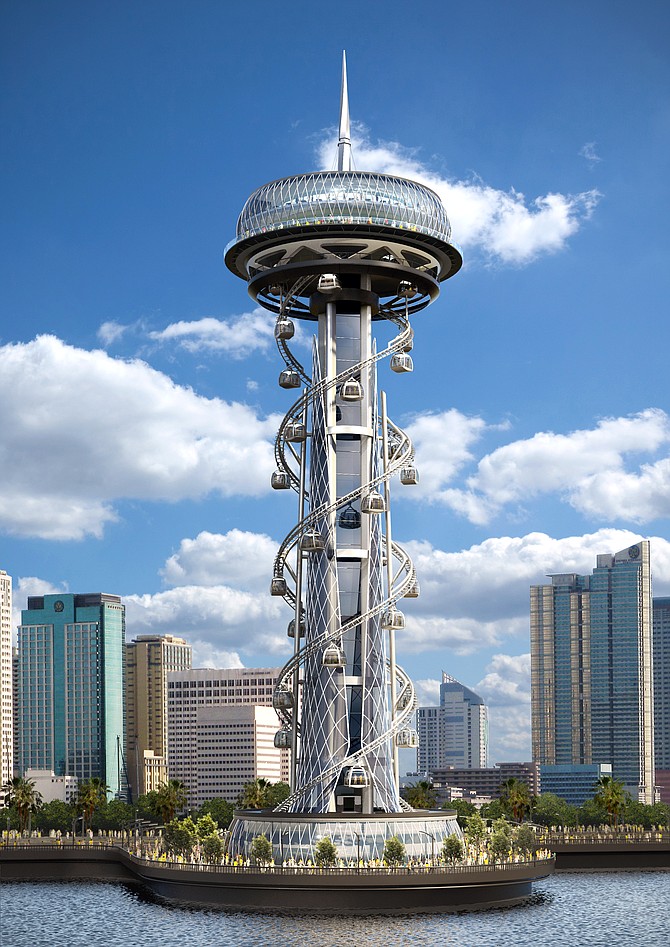 A downtown waterfront "SkySpire," similar in appearance to Seattle's Space Needle, is the latest addition to a list of proposed attractions that San Diego port district officials are expected to discuss at their Feb. 10 meeting.
The Board of Port Commissioners is currently slated to receive informational presentations regarding four proposals to build a Ferris wheel on the North Embarcadero. Port officials are in the early stages of developing a master plan for the next 50 years of development along the local waterfront.
Orlando, Fla.-based U.S. Thrill Rides LLC has submitted concept plans for a high-rise attraction, potentially more than 200 feet high but with an actual height not yet determined. The structure would have an elevator and several external gondolas taking passengers to and from a circular observation area with 360-degree views of the surrounding waterfront.
Company President Michael Kitchen said by phone that his company is "agnostic" on issues including height, appearance and the specific location of the structure. "We will abide by the architectural and other design standards of the local community," he said.
Kitchen said the expected cost for a spire attraction would be between $30 million and $40 million, and would ultimately be determined by factors including height. The company has developed approximately 300 attractions globally based on local, state and federal rules regarding height, aviation safety and other building standards.
U.S. Thrill Rides has one attraction in development in Orlando, for instance, that will be 700 feet tall. Kitchen said the company projects that a spire attraction would see about 1.5 million in local annual visitors, with each paying $12 to $15 to ride to the observation platform.
The observation platform could be built with or without restaurant and retail elements, Kitchen said. Construction would span approximately one year if the plan obtains approvals.
Downtown waterfront projects are subject to review by port officials, the California Coastal Commission and the Federal Aviation Administration.