SD Sports Innovators Accepting Applications for Springboard program
Tuesday, February 3, 2015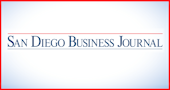 SD Sports Innovators, the nonprofit business accelerator that connects entrepreneurs in the active sports industry to veterans and experts, said it is accepting applications for its SDSI Springboard program through March 6.
The free, four-month program helps startups in the sports and active lifestyle space obtain expert mentoring from CEOs and finance and marketing executives. The purpose is to fine-tune company business plans and create a sustainable business model that could lead to possible investment opportunities.
To date, 48 companies graduated from SDSI Springboard since it was launched in 2011 by CONNECT, the San Diego nonprofit that fosters innovative technology. Ninety percent of those firms are still operating and have raised a total of $28.8 million in capital funding, and created 94 jobs, said SDSI.
There is no cost to apply, but upon acceptance companies must become SDSI members to participate. For more information visit www.sdsportinnovators.org.