First National Bank of Southern California Obtains $3 Million in Capital Funding
Tuesday, February 3, 2015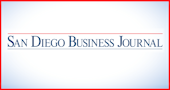 First National Bank of Southern California, based in Riverside and with three branches in San Diego County, said it obtained an additional $3 million in capital funding in December from existing investors.
The three individual investors are all principals in ABP Capital LLC, an Encinitas-based private investment firm. Michael Persall, Evert Alsenz and Paul Becker acquired FNBSC in March 2014.
For the 2014 fourth quarter, FNBSC said it reported net income of $31,856 compared to a net loss of $360,862 for the like period of 2013.
Bank Chairman Persall said the improvement was the direct result of the bank's loan portfolio increasing 69 percent since the investors took over.
CEO Jeff Watson said the increased capital will provide the $170 million bank with resources to support bank growth and the expansion of products within the service area of San Diego, Orange and Riverside counties.