RFI Industries Reports Q4 Net Income of $325,000
Monday, February 2, 2015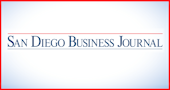 RFI Industries Ltd., the San Diego maker and distributor of cable assemblies for wireless networks, reported fiscal 2014 fourth-quarter net income of $325,000, compared to $25,000 for the prior year's fourth quarter.
Sales for the period that ended Oct. 31 were $6 million, down by $2.4 million from the like period of 2013.
Most of the sales drop was caused by a $2 million decline in sales at the company's Cables Unlimited division.
For the full year, RFI reported net income of $1.4 million, compared to $3.6 million in the 2013 fiscal year. The results reflect a $1.1 million loss from discontinued operations from the sale of its RadioMobile and RF Neulink divisions last year.
Sales for the year were $23.1 million, compared to $36.6 million in FY 2013. Most of the decline was a fall in sales at the Cables Unlimited division from $19 million to $7.2 million.
RFI completed the acquisition of Comnet Telecom Supply Inc. last month for about $4 million, which the company said provides a growth opportunity for fiber optic and custom cabling operations.