Define Financial Relocates Offices to Symphony Towers
Monday, February 2, 2015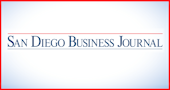 Define Financial, a financial advisory firm in San Diego, recently relocated to new offices at Symphony Towers.
The firm founded by Taylor Schulte in June is aimed at individuals and small business owners, providing them with objective financial advice. Schulte founded the firm after working as a financial advisor at Morgan Stanley, and for Beverly Hills Wealth Management.
Define Financial is part of a network of Advanced Practice Advisors of Del Mar.