BIOTECH: S.D. HAS RIGHT ASSETS IN WORKFORCE, RESEARCH BASE AND VC
Life Sciences Continue to Succeed With Early Stage Activity
Originally published December 29, 2015 at 3:32 p.m., updated December 29, 2015 at 3:32 p.m.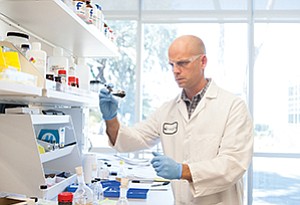 San Diego — The life science industries are continuing to see sustained growth in San Diego County, landing the region alongside powerhouse biotech metros such as Boston, San Francisco and the Research Triangle in North Carolina. The steady rise up the ranks is attributed to the San Diego region's expertise in early, discovery stage research, experts say.
"High-quality, late-stage assets are hard to come by for the industry and thus there is a push to find earlier and more innovative product candidates," said
Jay Lichter, life science venture capitalist and the managing director of Avalon
Ventures. "As an innovation hub, San Diego clearly differentiates from other biotech clusters in the capacity to generate early-stage assets and new approaches."
San Diego is home to more than 80 research institutions and 1,100 life science companies — a number that is growing rapidly every year, according to the San Diego Regional Economic Development Corp. (EDC).
The research institutes — along with major universities in the region — provide the sector with technologies that fuel startup growth and product development.
The presence of Big Pharma such as Pfizer, Johnson & Johnson, GlaxoSmithKline and Merck boosts collaboration with academic institutions as well as life science startups. These assets, combined with the region's human capital of talented workers, help rank San Diego in the top four life science markets in the world across multiple global industry reports.
"San Diego has all the ingredients for great competitive success in life sciences," said Sara Radcliffe, president and CEO of the California Life
Sciences Association (CLSA). "San Diego has an extraordinary research base, a workforce of highly educated and motivated individuals who can help sustain the industry, a venture capital community, and strong thought-leaders and policymakers. San Diego greatly benefits from having representatives like (Congressman) Scott Peters in the region, who has really been a champion for the life science industry."
Employment Picture
In 2014, more than 38,000 individuals were directly employed in life science industries, including biomedical device, biotechnology and pharmaceuticals, according to CLSA's 2016 industry report. That number increases to more than 51,000 employees if related industries are included, according to the EDC.
And these are well-paid employees. Life sciences employees on average earn more than $134,000 annually, more than any other cluster in San Diego County, the EDC reports.
The life science sector continues to dominate the innovation economy in San Diego County, pulling in more than $550 million in venture capital investments in 2014. Biotechnology received more VC funding than any other industry in San Diego.
"San Diego has always been an innovation leader," Lichter said. "The talent is here and so is the infrastructure. Historically, when a company produces a product, the company gets acquired and eventually the site gets shut down. However, people want to stay here; so as the research institutions continue to make inventions, the novel ideas are advanced into new San Diego biotech companies."