S.D. Chamber Survey Finds Business Confidence Lagging
Thursday, December 17, 2015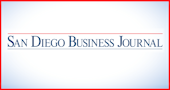 Confidence among San Diego businesses fell for the fifth straight month to yet another record low in November, with more than a tenth expecting revenue to decline in the near future.
The San Diego Regional Chamber of Commerce's Business Outlook Index dropped from 17 in October to 16.6. The index is on a -100 to 100 scale, with any positive number demonstrating overall optimism. Until June, the index hovered around 26 since its inception in August 2013.
In addition to the dour outlook on revenue, a record high for the survey, nearly one-fifth of businesses said they believed conditions in their industries would soon worsen, another all-time high.
Hospitality companies fared the worst in the index, with an outlook of -2. More said they would cut their workforce than increase them.