Civic San Diego Approves the Navy Broadway Redevelopment
Friday, December 11, 2015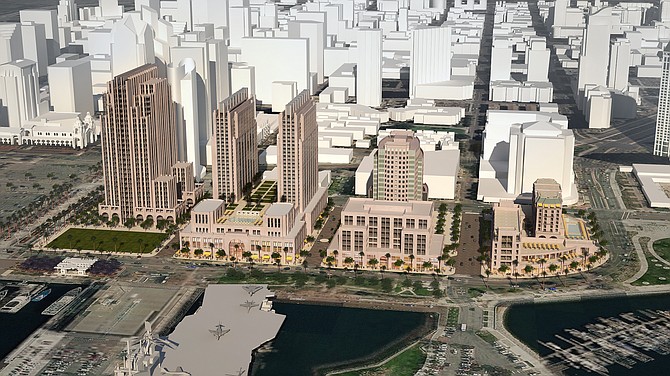 Civic San Diego, the city's downtown project oversight agency, has approved Manchester Financial Group's planned $1.3 billion redevelopment of the Navy Broadway Complex, a mixed-use project known as Manchester Pacific Gateway.
The project now awaits final federal approval under the National Environmental Policy Act and the resolution of a pending local civil suit related to environmental reviews, both expected soon. Dealy Development President Perry Dealy, who is heading the project on behalf of developer Douglas Manchester's company, said construction could begin in the first quarter of 2016, with completion expected by 2019.
In the works for nearly a decade, the 13.7-acre development includes a new 18-story regional administrative office building for the U.S. Navy, alongside six other commercial buildings that will include office, retail and hotel elements and a new military-themed museum, with adjacent public spaces.
The project spans 3 million square feet within eight city blocks off North Harbor Drive, and will replace several older Navy buildings currently on the federally owned property.
Manchester Pacific Gateway was designed by the San Diego office of architecture firm Gensler. Civic San Diego reviewed concept plans to ensure consistency with surrounding downtown structures.
Civic San Diego officials have said the project will not require further review by other local government officials, including City Council, since the city technically does not have authority over projects taking place on federal land. The Manchester project was previously approved by two other government entities with jurisdiction related to the project's proximity to the waterfront – the Unified Port of San Diego and the California Coastal Commission.