Laguna Pharmaceuticals Shuts Down After Failed Drug Trial
Tuesday, December 8, 2015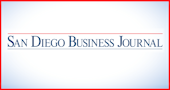 Just months after landing a $30 million venture round to advance a promising atrial fibrilation drug through late-stage trials, La Jolla-based Laguna Pharmaceuticals abruptly shut down.
The company opted for a quick exit after early results from a Phase 3 clinical trial threw up red flags regarding the safety of the firm's only drug.
Laguna was founded based on mid-stage data for a drug called vanoxerine, with the investors hopeful about the safety profile that had been established for the drug as it was being developed by a Cleveland-based company called ChanRx. The biotech firm agreed to change its name to Laguna Pharmaceuticals and move to San Diego as part of the $30 million investment led by Versant Ventures and Frazier Healthcare earlier this year.
Another stipulation of the deal was to bring on well-known Bob Baltera as CEO, the guy who is best known for selling Amira Pharmaceuticals to Bristol-Myers Squibb for $475 million in 2011.
In an interview with the San Diego Business Journal earlier this year, Baltera said the company was betting on getting new use out of an old drug with vanoxerine, which was tested in the 1970s to treat cocaine addiction, Parkinson's disease and depression. The drug failed in those indications, and has failed yet again with Laguna's late-stage trial.
"If you're going to fail, you want to fail quickly, right?" Baltera told Xconomy Editor Bruce Bigelow, who first reported the shutdown over the weekend. "We didn't fail. The drug failed."
Laguna had about eight employees at the time of shutdown; all were terminated, according to a Laguna spokesperson.