AleSmith Teams with Danish Brewer Mikkeller on New Local Venture
Tuesday, December 8, 2015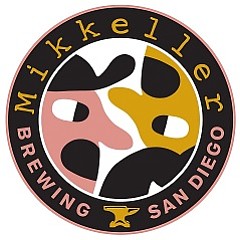 San Diego's AleSmith Brewing Co.has partnered with Denmark-based brewer Mikkeller to form a new company in Miramar, called Mikkeler Brewing San Diego. Financial terms were not immediately available, with the venture slated to begin operations in the first quarter of 2016.
A statement from AleSmith said the company's founder and CEO, Peter Zien, has entered into an agreement with Mikkeller founder Mikkel Borg Bjergso, under which both will hold ownership stakes in the business. The new company will operate out of AleSmith's former headquarters building on Cabot Drive, with daily operations overseen by Mikkeller.
Both companies will retain their original brewing operations outside of the partnership. The two firms have partnered previously on brews, including AleSmith-Mikkeller IPA and AleSmith-Mikkeler APA, currently on tap at Mikkeller Bar in San Francisco.
Mikkeller was formed eight years ago by Bjergso, a former math and physics teacher, and it has since brewed beers primarily through partnerships with other companies rather than through its own physical facilities.
"People have always asked me when I'm going to open my own brewery, and my answer has always been 'never,' " Bjergso said in the AleSmith statement. "I like being a 'gypsy brewer,' but know that having a stake in a U.S. brewery will change our position here."
Bjergso plans to create a local "center of craft collaboration" by inviting brewers from around the world to conceive and brew new recipes. Zien, who will maintain a minority stake in the new venture, said he expects it "to create unique and flavorful beers of the highest quality."
The new venture's first brew is expected to be an "imperial take" on an English-style porter. Eventually, numerous Mikkeller San Diego beers will be bottled, canned and distributed more widely nationally and internationally.
AlesSmith recently moved to new headquarters and brewing facilities on AleSmith Court, formerly known as Empire Street in Miramar, where it also opened a new 25,000-square-foot tasting room.
Officials said the facility at 9366 Cabot Drive, which opened in 1995, is the second-oldest brewing facility in the local market. It is equipped with a 30-barrel brewing system that was used by AleSmith to produce 15,000 barrels of beer annually, before its move to its current 105,500-square-foot operations facility.