ViaSat, UCSD Team Up for Coverage of Tritons' Athletics
Sunday, December 6, 2015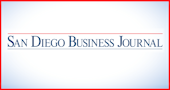 Sports fans have a new television viewing option thanks to ViaSat Inc.
The University of California, San Diego and ViaSat announced plans to live stream UC San Diego athletic contests in a high-quality format, using the ViaSat Exede satellite network and the ViaSat-1 satellite.
The initiative was to kick off during the evening of Dec. 4, with women's and men's basketball contests against Cal State Monterey Bay.
UC San Diego has 23 sport programs. Games will be available on any connected device at UCSDTritons.tv.
UC San Diego plans to use ViaSat's high-speed live streaming technology, piggybacking on ViaSat-1, which can move data at 140 gigabits per second.
Students and staff at the university will operate the ViaSat equipment.
"UC San Diego and ViaSat have a longstanding partnership in creating a path for students to engage with new technologies and broadcast standards," Grant Markhart, director of ViaSat's live events division, said in a prepared statement.
ViaSat (Nasdaq: VSAT) is based in Carlsbad.
The Tritons basketball season is still young. Few games are scheduled in December, but play resumes in January and February ahead of California and NCAA tournaments.
The bad news, if there is any, is for football fans. There is no Tritons football program