Executive Q&A Ron Evans of the Salk Institute for Biological Studies
Originally published December 3, 2015 at 12:56 p.m., updated December 3, 2015 at 12:56 p.m.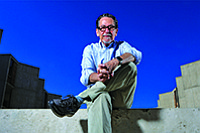 San Diego — Before drugmakers can develop new products, they first need to get their hands on groundbreaking science. For this, they depend on discoverers and inventors, whose job it is to dig up ideas that can translate to new therapies. That's Ron Evans, and his discoveries have made millionaires of many.
Evans, 66, has been living at the edge of technology and human knowledge for the last four decades. In his words, a life of discovery means he's constantly "peering into the unknown." He thrives off the uncertainty — and possibilities — of the future. His father, a physician, wanted Evans to go into business (and even declared Evans a business major on his college applications).
"But I never considered anything but science," Evans said.
It turns out that he's done a quite a bit of both. Evans works at the Salk Institute for Biological Studies as professor and director of the Gene Expression Laboratory. He's also an investigator at the Howard Hughes Medical Institute and a research scholar of the Lustgarten Foundation, among several other roles leading research.
In the private sector, he's founded or co-founded nearly a dozen life science firms on the East and West coasts, and served on the scientific advisory board of many.
Evans' research focuses on the function of nuclear hormone receptors. His work led to an entirely new engine of discovery for the pharmaceutical industry, helping drugmakers make their products in new ways.
It was with this knowledge that Evans co-founded Ligand Pharmaceuticals, which currently has a market cap of around $2.1 billion. He also co-founded a couple of spinouts from Ligand, including Syndax Pharmaceuticals, a promising breast cancer biotech with ties to Merck's successful cancer drug, Keytruda.
Evans' research can also be found in the roots of Aragon Pharmaceuticals, whose prostate cancer drug was acquired two years back by Johnson & Johnson for $1 billion; and also with its sister biotech, Seragon Pharmaceuticals, whose breast cancer drug sold last year to Roche for $1.7 billion.
Rich Heyman, the founder of the Aragon-Seragon power duo, worked in Evans' lab decades back. Later, they came together to launch X-Ceptor Therapeutics and most recently Metacrine Inc. (which launched earlier this year with tech from Evans' lab and a $36 million Series A round).
As a scientist and investigator leaning into serial entrepreneurship, Evans has ideas about the relationship between academic discovery and the private sector. He recently answered questions for the San Diego Business Journal. Here are some excerpts:
Your primary role is in research institutions, leading science and discovery. Why do you choose to be active in the startup scene?
I enjoy the transition between the academic side and the translational. I find that if the discoverers don't get involved in company creation, then the discovery won't have the nurturing it needs to explore its therapeutic potential. If you don't found a company, the odds that your discovery will turn into a drug is low. And the more you start companies, the more you understand what companies need in terms of intellectual property, leadership, and the value inflection points. That means that the venture capitalists aren't running a school with your startup, and you can do more with the business.
What's the worst advice you've ever received in your career?
I have received advice to stop founding companies. I get that all the time, actually. To many people, it seems like an excessive demand on time and therefore a net detractor from the research work that I do. But I think that's a mistake. As an inventor, you must get involved in developing the invention.
Does drug development belong in the private sector or in academic institutions? Where is it most effectively carried out?
I'm not sure that's the right question, because there isn't a single best place. You have to look at how discovery occurs. If it involves a validated therapeutic target, then drug development can occur in pharma. But if it involves developing a therapeutic target that is not yet validated, then there is a lot of underlying science that must be done. Pharma has been backing away from having their own research programs because their true strengths are in development, trials, and marketing. Their weakness is being aggressive with research, discovery, and coming up with new validated therapeutic targets. That has been offloaded to biotech and academic institutions.
As a result, you get a spectrum. Some things are better to be done in the academic setting, and some things pharma does quite well. So you must have a handshake agreement.
What are you most proud of in your career thus far?
The most important discovery goes back to 1985 with the discovery of the nuclear receptor. That changed the landscape for me, but also the whole landscape of molecular physiology was created by that. It was insight into how the body works, but also how to develop new kinds of drugs.
The other was the surprise and fun of getting to work with really great people. It might seem like science is a solitary business, but in fact it's the colleagues around you that are always engaged, always excited about new ideas, and always trying to push the boundaries. Dedicating my life to discovery; living at the edge of technology, at the edge of our knowledge, and peering out into the unknown… that is one of the great privileges of my life.

What do you do with your time off the clock, maybe to give your mind a break from science?
I play guitar, because I can't think about science when I play music. It's hard for my brain to "turn off," and so music is the answer for me. Gardening and potting plants also helps. A good way for me to end the day is to dig in the dirt, put a plant in it and watch it grow. It's good for me to get out in the environment one way or another.