Home Prices Up 6.1 Percent Over Last Year
Tuesday, December 1, 2015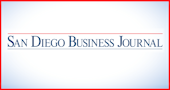 Home values in San Diego and Carlsbad continued to rise in October as home equity values nationwide approached pre-recession levels, according to a report Tuesday from CoreLogic.
CoreLogic's Home Price Index recorded appreciation figures for the year ending in October, showing San Diego values rose 6.1 percent over the past year compared to 6.8 percent nationwide. San Diego home prices were steady between September and October, rising 0.3 percent. The national index rose 1 percent in the same period. CoreLogic's figures include distressed sales.
The firm said low home inventory and strong demand are expected to persist into next year.
"As we move forward, the rise in home prices will need to be better correlated to family income trends over time to avoid homes becoming unaffordable for many," CEO Anand Nallathambi said. "This is especially true in several metropolitan areas where home prices have grown rapidly."
The national index is expected to rise 5.2 percent by next September.