Agreement Could Clear the Way for $1.25 Billion Navy Broadway Development
Friday, August 28, 2015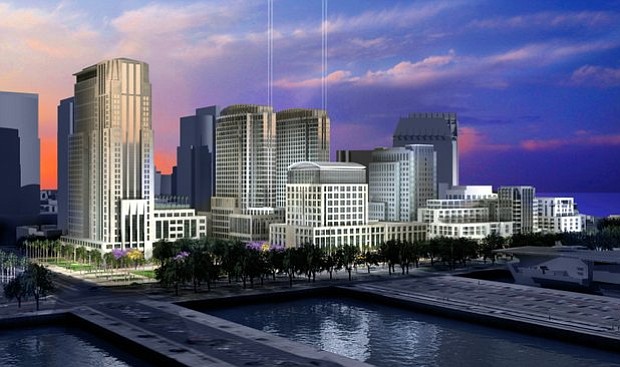 Manchester Financial Group has reached a settlement agreement with the California Coastal Commission, possibly clearing the way for work to proceed on a long-delayed, $1.25 billion redevelopment of the Navy Broadway Complex in downtown San Diego.
Still pending is a federal court appeal stemming from an earlier lawsuit filed by Navy Broadway Complex Coalition, expected to be decided by year's end.
Dealy Development President Perry Dealy, who is overseeing the project on behalf of Manchester, said he is optimistic that work can begin in the first quarter of 2016, after the developer reached an agreement with the coastal panel on issues including public access and community amenities at the 16-acre development, known as Pacific Gateway.
Dealy said an agreement was reached with the Coastal Commission on Aug. 21, prompting a federal court on Aug. 25 to dismiss a legal challenge that had been filed by the coastal panel, based on issues including access and community impacts.
By mid-2019, the company led by longtime local developer Douglas Manchester plans to complete a new 350,000-square-foot office building housing the U.S. Navy's San Diego regional headquarters. Plans for Pacific Gateway also include 1.1 million square feet of non-military office space, with 220,000 square feet of retail and two hotels totaling about 1,400 rooms.
"I view this as an opportunity to recruit the best retail and hospitality businesses to San Diego to positively impact our economic growth and create jobs," Manchester said in a statement.
Christopher Pederson, chief counsel for the California Coastal Commission, said the panel is "pleased with the significant public benefits it obtained from the developer" through the settlement agreement.
"The developer has agreed to pay $1 million that will go towards lower-cost visitor serving uses in the San Diego area, obtain at least a gold level LEED certification for the project, provide a range of public services and visitor-serving amenities and undertake a variety of efforts to minimize the traffic-related impacts of the project," Pederson said in a statement.
Dealy said Pacific Gateway also includes public walkways and outdoor seating areas, and concepts are being finalized for what would be a new 40,000-square-foot maritime or military-themed museum, across the street from the USS Midway Museum. The project is being designed to complement work recently completed by the port district along the North Embarcadero.
Plans call for replacing three older Navy buildings on the site with one regional headquarters building. The Navy in 2006 chose Manchester Financial Group to redevelop the downtown site south of Broadway, between North Harbor Drive and Pacific Highway, but the project was held up by numerous economic, environmental and legal challenges.