BIOTECH: NIH AND DEFENSE DEPARTMENT INTERESTED IN INVENTION
Inventor's Device Aims for Better Way to Get Medicine to Lungs
Thursday, August 27, 2015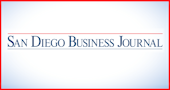 For Donovan B. Yeates, building a better mousetrap means building a better medical device.
His quest got a boost this month. Yeates learned that the U.S. government wants to fund his project.
The emeritus university professor and native of Perth, Australia, runs KAER Biotherapeutics, a one-man business in Escondido.
Yeates calls his product SUPRAER. A bench-top model consists of a cylinder about the size of a large Thermos vacuum flask, tilted on its side, where medicine is sprayed through a proprietary nozzle, quickly dried and then concentrated for a patient to inhale. Electronics for the device sit in a steel box about the size of a toaster oven.
Getting Grants
The National Heart, Lung, and Blood Institute recently awarded KAER a $291,000 phase I Small Business Innovation Research grant, with the aim of improving treatment for people with adult respiratory distress syndrome.
It's a serious medical problem, and roughly 1 in 5 people on ventilators experience it.
Yeates has received 11 similar phase I small business grants during his career, and he has turned nine of them into phase II awards. He hopes to repeat that performance with SUPRAER. The institute making the award is part of the National Institutes of Health, which is part of the Department of Health and Human Services.
It is not clear how many years it might take the U.S. Food and Drug Administration to clear the device for general use. Several phases of clinical trials are still ahead.
"A positive outcome in phase 2a would make KAER a very attractive acquisition target," Yeates said.
The SUPRAER device solves the problem of getting high concentrations of large molecules, such as antibodies, into an aerosol state, where they can be easily inhaled. The device is particularly suited for delivering a certain sort of medicine — surfactant — directly into the lungs of patients with acute respiratory distress.
Eventually, Yeates said, doctors could put his device toward other uses. He said it is likely a good way to deliver chemotherapy to people with lung cancer.
Lower doses of chemotherapy drugs to the lungs — instead of higher does intravenously — could mean fewer side effects and potentially better outcomes, Yeates said.
"The potential is huge," the inventor said, speaking of his system in general.
In the system, a liquid aerosol is generated with a low-shear nozzle, dried, concentrated and delivered through a tube at the opposite end of the unit. KAER says its machine can deliver a dose five to 20 times higher than current nebulizer technologies.
The device has gained notice. Frost & Sullivan recognized KAER's innovation in 2012, presenting the company with an award.
The Defense Department is also interested in the device's capabilities. It bought a unit for testing at the U.S. Army's Aberdeen Proving Ground in Maryland.
Covering the Patent Bases
KAER Biotherapeutics has five patents in the United States, two in Japan, and one each in the European Union and China, all gained with the help of Alexander Schlee, the business's patent attorney in Manhattan Beach. They are pursuing a patent in India.
Yeates had to license intellectual property for the spray device that gets the whole chain of events moving inside his medical device.
Yeates received his Ph.D. in medical biophysics from the University of Toronto in 1975. He completed his career in academia as a bioengineering professor at the University of Illinois at Chicago. He was also a research physiologist at a Veterans Administration Medical Center there. He is currently a research professor emeritus with the school.
A previous business venture made him aware of North San Diego County. For 13 years he was chairman and CEO of BioTechPlex Corp. in San Marcos.
Yeates chose central Escondido for KAER. He leases space in an industrial park near the city's auto dealers and downhill from Palomar Medical Center. He says he has room to grow, and that potential manufacturing subcontractors are a short walk away.
"Escondido is an unsung place for small companies," he said.
Yeates' business went through CONNECT's Springboard program in 2010.
When it came time to choose a company name, Yeates knew that he wanted the first three letters of the word "aerosol." He then went through the alphabet and put a K at the beginning of the name, creating a word that sounds like "care."
Shorter was better, he reasoned.
With a last name like Biotherapeutics, the first name had to be succinct.
KAER BIOTHERAPEUTICS
CEO: Donovan B. Yeates
Revenue: Undisclosed
No. of local employees: One


Investors: Yeates is the majority investor
Headquarters: Escondido
Year founded: 2008
What makes the company innovative: KAER produces a patented medical device that can effectively deliver large molecules for a patient to inhale