Median Home Price Increases to $470,000 in July
Tuesday, August 18, 2015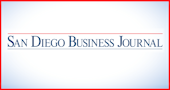 The median home price in San Diego County rose 5.6 percent in July from the year before, to $470,000, while the number of homes sold continued their recent double-digit spurt, increasing 22 percent to 4,322, according to data from CoreLogic.
The rest of Southern California saw similar growth, according to CoreLogic, with the median home price up 5.5 percent to $438,000. The area, including Los Angeles, Orange, Riverside, San Bernardino and Ventura counties, also sold 24,235 homes in July, up 17 percent from last year.
The region had its best July since 2006 for home sales, CoreLogic said. Job growth, rising consumer confidence and some concern that interest rates may soon rise from historically low levels contributed to the recovering sales, it said.
"Southern California home sales have risen year over year for six straight months now, and we're finally approaching an overall sales level that could loosely be called 'normal' in the context of the past quarter-century," CoreLogic analyst Andrew LePage said.