STARTUP: EFFORTS AT AUDIO BEING MADE TO 'CATCH UP' TO VIDEO PERFORMANCE
Ossic Is Attemping to Do Its Part for Virtual Reality: the Ears
Thursday, August 13, 2015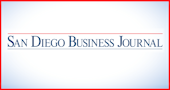 Put on a pair of virtual reality goggles and your eyes start playing tricks on you.
By viewing a stereoscopic, computer-generated image, you might start to believe you're in another world.
The ground might actually be level as far as the eye can see, but with the glasses in place and a computer-generated image suggesting you are at the edge of a cliff, instinct can override reason and a feeling of vertigo can set in.
San Diego-based Ossic is working to heighten that sensory experience by creating similar technology for the ears.
Just as a computer-generated scene pivots when a person turns his head, Ossic is developing a directional system where a sound source seems to move, depending on which direction a person is facing.
"Video is there," said company CEO Jason Riggs. "Audio has to catch up."
Software is at the core of the team's work, though Ossic is also developing specialized hardware.
B2B Operation
Riggs is one of four engineers and scientists who co-founded Ossic. They hope to operate it as a business-to-business concern.
Riggs and his partners — Jose Arjol Acebal, David Carr and Joy Lyons — might be on to something.
San Francisco-based Digi-Capital predicts the market for virtual reality and augmented reality could be worth $150 billion by 2020.
Augmented reality refers to a system that adds computer-generated elements to real-life video.
Consider, too, that Facebook bought goggles maker Oculus VR for $2 billion in early 2014.
And in October, Qualcomm Ventures took part in the $542 million series B funding round for Florida-based Magic Leap, a company specializing in what it calls "digital lightfield technology."
On a recent summer afternoon, Riggs and Lyons offered headphones to a visitor for a demonstration of their sound technology.
First up was a recording of "Take Five" with the Dave Brubeck Quartet. Electronics in the headphones keep track of which way the listener's head is oriented.
By turning one's head back and forth, it sounded as if the jazz was coming from one direction in the room.
Next was a screening of the road race scene from "Star Wars Episode I: The Phantom Menace." Again, the sounds of levitating vehicles hurtling by in the science fiction scene seemed to be coming from distinct directions.
Of course, the Ossic system has to be backward compatible, operating with audio originally recorded in the 1950s and 1990s (the "Star Wars" movie is available in a six-channel sound format called 5.1).
Riggs and Lyons suggested that movie, music and game producers might be able to do more with more robust recordings meant for virtual reality.
Their business shares an office in the EvoNexus incubator in a University Towne Center high-rise.
The office is actually sparse, though one room includes a dressmaker's model, topped off with a cast of Acebal's head. Lyons, who holds a master's degree in acoustics, said that bodily dimensions — the shape of the ears, the size of the head — greatly influence sound. A critical piece of hearing is how sound bounces off a person's shoulder.
Riggs and Lyons both had careers that included stints with Logitech International S.A. (Nasdaq: LOGI).
Riggs said Ossic considered putting down roots in Las Vegas, where a tech community has grown up around Zappos Inc. and its CEO, Tony Hsieh.
EvoNexus' Attraction
The founders looked into incubators and discovered San Diego's EvoNexus. The local incubator was attractive because it did not ask for equity in the business, the founders said.
Ossic started life under a different name, Sonic VR. That had to change, Riggs said, because the founders realized it had no trademark value.
There are more than 2,000 trademarks with the word "sonic."
The new name is a reference to ossicles — tiny bones in the inner ear commonly known as the hammer, anvil and stirrup.
Virtual reality is an entirely new ecosystem, Riggs and Lyons said, and they are building their contacts in the still-small community.
Walter Davis, the retired vice admiral who is now vice president at the EvoNexus incubator, said Ossic might not stay independent for long.
A larger company in the virtual reality space might see enough value in the young company to snap it up, he said.
OSSIC
CEO: Jason Riggs
Revenue: Pre-revenue
No. of local employees: Seven, including contractors and interns
Investors: Founders Jose Arjol Acebal, David Carr, Joy Lyons and Jason Riggs
Headquarters: University Towne Center area
Year founded: 2014, as Sonic VR
What makes the company innovative: Ossic is developing directional audio for virtual reality, working in both software and hardware