PHARMA: PROVEN STAFF TO TACKLE METABOLIC DISEASES
Metacrine Fields a Biotech All-Star Team
Thursday, August 13, 2015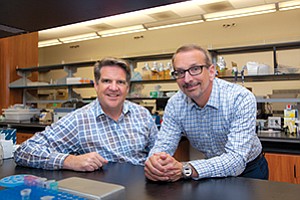 Rich Heyman, the heavyweight biotech executive who grew two startups into billion-dollar companies, is co-founding a new venture in San Diego.
The startup, called Metacrine Inc., is working on drugs for diabetes, liver disorders and other metabolic diseases. Its technology is based on work by Salk Institute for Biological Studies researcher and Metacrine's co-founder Ron Evans, along with his colleague Michael Downes.
"This is a story about connections," said Metacrine's new chief executive Neil McDonnell.
He's right.
Evans and Heyman go way back: Heyman used to work in Evans' lab and still attends its scientific meetings at Salk.
Heyman is most noted for two enormous financial successes. He co-founded Aragon Pharmaceuticals, which sold in 2013 for up to $1 billion to Johnson & Johnson. With the assets of Aragon that he didn't sell, Heyman founded Seragon Pharmaceuticals, which sold in 2014 to Roche subsidiary Genentech for up to $1.7 billion.
Evans is a scientific serial entrepreneur and has founded many companies, including San Diego's Ligand Pharmaceuticals, a public company with a market cap of nearly $2 billion. Evans is responsible for the discovery of nuclear hormone receptors, molecules that respond to steroid hormones, vitamin A and thyroid hormones. His lab also discovered that a modified form of vitamin D appears to inhibit pancreatic cancer.
Knows the Game and the Players
Armed with a new idea for the next venture, Heyman and Evans were on the hunt for a chief executive. A colleague of the two introduced them to McDonnell, who has been involved in developing several diabetes and obesity drugs, including the weight-loss drug Contrave from San Diego's Orexigen.
For the last three years, he's worked as senior vice president of cardiovascular and metabolic disease at Takeda Pharmaceuticals, the largest pharma company in Japan and Asia.
"I've talked to just about every diabetes company out there and seen their data," McDonnell said. "I know what's interesting and new. That's how I knew that what Evans and Heyman were doing was novel."
But expertise in metabolic disorders is not the only thing McDonnell is bringing to the table.
"I also have an appreciation for how things function in Big Pharma," McDonnell said. "We will need to partner with pharma eventually, and I happen to know a lot of the heads of some Big Pharma operations."
Metacrine will be taking advantage of more than Aragon/Seragon's old leadership team. The company is also headquartered at the same office, using the same lab space and much of the old staff.
Been There, Done That
"They're a proven team, they're extremely competent and they've done it all before," McDonnell said. "In fact, we brought in the entire medicinal chemistry team from Seragon. It's almost backwards. They didn't come to us, we came to them. The staff was shutting down operations at Seragon. They hadn't even finished packing their boxes before we had them unpacking them."
Three former Aragon and Seragon officials have joined Metacrine: Trisha Millican, chief financial officer; Nicholas Smith, senior vice president of chemistry; and Eric Bischoff, vice president of business operations.
Series A Success
The group of highly experienced and well-connected executives has quickly raised capital. Metacrine recently announced a $36 million Series A round. Venture funding included Arch Venture Partners, EcoR1 Capital, Polaris Partners and venBio.