Port Commissioners Keep Anthony's In Running for Longtime Waterfront Site
Tuesday, August 11, 2015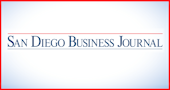 San Diego port commissioners have decided to keep the iconic Anthony's Fish Grotto in the mix of finalists vying to set up shop on the North Harbor Drive site occupied by Anthony's for the past five decades.
Commissioners voted 4-0 to amend a port staff recommendation, which had called for the port district to negotiate with just two locally based finalists with proposals for the waterfront site – Brigantine Inc. and Sunroad Enterprises. Staff will now also hold negotiations with a partnership that includes leaders of Anthony's and San Diego-based Fish Market Restaurants Inc., which has proposed a nearly $10 million overhaul of the 50-year-old restaurant.
Staff is expected to issue a recommendation to commissioners, who will formally approve one of the proposals by year's end. Leaders of all three development teams pitched their plans to commissioners at their Aug. 11 meeting.
Port commissioners said they were torn between their loyalty to a local icon, which has been on the downtown San Diego waterfront since 1946, and the need to give multiple parties the opportunity to build on a prime spot that has rarely come up for redevelopment.
Dan Malcolm, chairman of the board of port commissioners, said port officials received about 600 emails in support of retaining Anthony's during the past month.
Operated by the Ghio family, Anthony's has been at its current location since 1965, and its 52-year lease with the port district expires Jan. 31, 2017. Port officials in May directed staff to issue a request for proposals to redevelop the site, and staff recently narrowed down six proposals to two finalists.
Brigantine's plan includes a new Brigantine Seafood & Oyster Bar, adjacent to other eateries such as Miguel's Cocina and Ketch Grill & Taps, as part of what would be called Portside Pier in initial concepts.
The Sunroad Enterprises proposal, called The Embarcadero, would include new locations of locally based operations, such as Blue Point Coastal Cuisine, Stone Brewing Tap Room and Craft & Commerce, along with concepts new to San Diego, including Fish Camp and Pier Burger.