Port Staff Recommends 2 Finalists for Anthony's Fish Grotto Site
Friday, August 7, 2015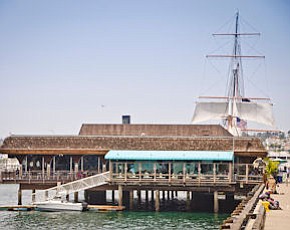 Unified Port of San Diego staff have recommended that the port district enter into negotiations with two locally based finalists – Brigantine Inc. and Sunroad Enterprises -- to potentially replace Anthony's Fish Grotto when its downtown restaurant lease expires.
Port commissioners are scheduled to discuss the recommendation at their Aug. 11 meeting. According to a staff report, officials received proposals from six applicants to develop a restaurant with related amenities on the downtown waterfront, to replace the existing Anthony's.
The iconic Anthony's, operated by the Ghio family, has been at 1360 North Harbor Drive since 1965, and its 52-year lease with the port district expires Jan. 31, 2017. Port officials in May directed staff to issue a request for proposals for redevelopment of the site.
The six proposals submitted included one for an extensive renovation and expansion of the existing Anthony's, put forward by a partnership that includes locally based Fish Market Restaurants Inc. and Anthony's leaders. Fish Market operates a competing restaurant on the North Embarcadero, which recently reopened following repairs from a fire that caused about $2 million in damage.
Officials said the other firms submitting plans were HEG Enterprises of Seattle, proposing a new Crab Pot restaurant; Landry's Inc. of Houston, proposing a Bubba Gump Shrimp Co. eatery; and P&J North County Enterprises, which proposes a new location of locally based Phil's BBQ.
According to proposals submitted by the finalists, the Brigantine plan includes a new Brigantine Seafood & Oyster Bar, adjacent to other eateries such as Miguel's Cocina and Ketch Grill & Taps, as part of what would be called Portside Pier in initial concepts.
The Sunroad Enterprises proposal, called The Embarcadero, would include new locations of locally based operations, such as Blue Point Coastal Cuisine, Stone Brewing Tap Room and Craft & Commerce, along with new concepts including Fish Camp and Pier Burger.