Executive Q&A: Kevin Carroll of Software San Diego
Thursday, August 6, 2015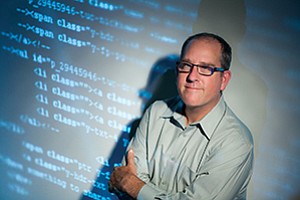 Kevin Carroll, the new executive director of Software San Diego, recently sat down with the San Diego Business Journal to offer his views of San Diego's information technology sector and how his organization might move it forward.
Software San Diego was founded in 1994 as the San Diego Software Industry Council. The organization offers networking, education, workforce development and company benefits to its members. It also reaches out to universities and makes the case for industry in front of political leaders. With about 75 members, the organization is in the process of widening its scope.
Carroll has split his career between San Diego and the Washington Beltway; he last worked as executive vice president for Connect. Outside of work hours, the 52-year-old Rancho Peñasquitos resident enjoys sailing. He has a large skateboard collection, and still rides.
Tell me when you first became aware of San Diego's technology scene.
I came to San Diego in 2000 with the AeA, which is the American Electronics Association. So I'm very, very familiar with the technology scene.
How have things changed since 2000?
While the life science industry seemed to have a pretty prominent voice and was pretty closely aligned with the universities on some of the issues they wanted, increasingly, especially in the past couple of years, there is really a vacuum for a technology-centric voice in the region.
What do we need in the technology sector?
We need a lot of things. A lot of the issues come back to money and talent.
We need to do a much better job at attracting talent and uncovering why that talent may not stay here. We know there's a large amount of graduates from UCSD who come out of the system and leave. We need to get in there and do a much better job at letting them know the opportunities are here in San Diego.
One of the things we hear a lot — it's almost a cliché now — is as individuals are looking at San Diego to relocate, they're wondering what their career path may look like. If the job doesn't work out that they came out here for, where are they going to go? And the reality is there are a lot of places to go. But a lot of these companies just don't have that visibility and the region doesn't have the visibility as a technology center.
Tell me about your plans for Software San Diego.
I started on June 1 and we're just off to a really, really quick start. Our chairman, Tom Clancy, is well known in this community, a venture capitalist and well-respected. What's become very evident, very quickly is that we are going to be a very broad-based technology association. Yes, the organization is called Software San Diego, but very broad — as a matter of fact, we have a lot of manufacturing companies coming in. The board will look to see if we may have a name change.
There was that famous statistic circulating in the community a while back that there were 6,000 unfilled tech jobs in San Diego.
That data came from Software San Diego. My predecessor Bob Slapin put a group together and that was a survey done. I haven't looked at that survey, but you can certainly guess that there is a huge amount of unfilled jobs. If you look at the postings, those are technical jobs but other jobs as well. And we have to dig into that. And it's not enough to say there are 6,000 unopened. What's really going on in the marketplace? That's what we're trying to figure out. In fact, we're embarking on a study on the software industry with the EDC (the San Diego Regional Economic Development Corp.) that's going to look at venture capital, that's also going to look at talent as well.
We need to work closely with our educational institutions and find out why those are unfulfilled. UCSD graduates more computer science engineers than any other college in the UC system, and that should give us a pretty good pipeline of folks. Why aren't they coming here? We need to figure that out. We need to figure that out quick.
Where are they going?
A lot of them are going to Silicon Valley, a lot of them are going to other places. We don't have the visibility in what's going on in the region. I think large research projects are paid for by Silicon Valley firms, and [students] get a little bit of an insight into what's going on there. And certainly, I would imagine those same firms use it as a recruiting opportunity to pluck out the best and the brightest.
We need to figure out a way to have those students exposed to what's going on right here.
Software is a binational effort in this region. There's a thriving software community in Tijuana, isn't there?
There is. And even farther down there are pockets in Mexico where they have really good software development. And that's something certainly I think the region should have a distinct advantage of is looking across the border and understanding what's going on and how to leverage that. We're not taking advantage of our inherent advantages of geography and location. We're the gateway to Asia, we're the gateway to Latin America. And I think there's some things that we're just simply not leveraging. You look at the military and the technology that comes out of the military. I think that's another area that we're really not taking advantage of as a region in the private sector.
There's a big cybersecurity cluster here in town.
We have a huge cybersecurity cluster here in town. And I work very closely with the CCOE, the Cyber Center of Excellence, and one of the things I've been talking to that group about is how do we take those assets, how does the private sector leverage those assets? In fact, we have a CTO-chief software architect roundtable. One of the members is Sentek, which is really a recognized cybersecurity expert in any community but certainly they're known probably globally as being one of the go-to folks in cybersecurity. And how do we take those regional assets and deploy those in the private sector and other places so we can all take advantage of it? And we're just not leveraging what we have here.
The other thing is just having a voice for the community. I go to a lot of community events, and I see a lot of politicians. It seems like every time they get up, they'll talk about the craft beer industry and have a laugh and say something funny — and sometimes I'm not laughing so hard. I love craft beer just like the next guy. But if you look at what's moving this economy, it's really the technology industry. And life science is certainly a big part of it, but I think that the technology community — information technology and manufacturing — really doesn't have the voice that's commensurate with its economic impact on the region. And we need to work on that too.
We were talking a little bit offline about small and medium-sized enterprises — SMEs — being "teenagers." You were saying that everybody loves the babies; everybody loves the startups.
We need a vibrant startup community. I think between EvoNexus and the incubators at the universities, and the private incubators, we have a robust startup system.
I think what's missing is the support system for the SME companies. I talked about it earlier: I said, everyone loves the babies but no one likes the teenagers. And I equate small and mid-sized companies to the teenagers. That's where the action is. That's where the growth is. If we really look at job growth, look at the numbers, the action is in the SME companies — growing a company from $5 million to $50 million. Companies like Verimatrix and iBoss. We should be focusing our support for companies like that, and yet those companies are so busy running their companies, they oftentimes don't have a voice, and they oftentimes don't ask for support even though they need it. Those are examples of the type of companies that I think Software San Diego is really going to be focusing in on. That's going to be our sweet spot.