SBA Lending on Pace for Possible 'Record-Setting Year'
Sunday, August 2, 2015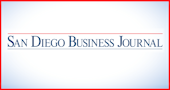 San Diego and Imperial County banks and other lenders issued 663 Small Business Administration-backed loans worth $287 million in the past nine months, about a 20 percent increase from last year, the SBA said recently.
During the like period last year, the SBA oversaw 545 loans worth $238 million. The increase comes amid intense popularity for the SBA's 7a loan program, which reached its statutory cap of $18.75 billion last week, prompting congressional action to increase the legal limit to $23.5 billion. On July 28, President Obama signed the increase, which had bipartisan support.
"This could potentially be a record-setting year," SBA San Diego District Director Ruben Garcia said.
In San Diego, Wells Fargo put $43 million in SBA-backed loans, the biggest amount of any lender. CDC Small Business Finance Corp. was ranked second, and the highest locally-owned company, at about $29 million. Most of those loans, however, were part of the SBA's 504 program and not for 7a loans.