MaxLinear Completes Acquisition of Entropic Communications
Thursday, April 30, 2015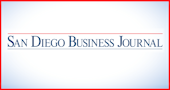 MaxLinear Inc., the chip maker based in Carlsbad, said on April 30 that it completed its acquisition of a second San Diego County chip maker, Entropic Communications Inc., in a deal that was first announced in February.
Entropic made Deloitte LLP's fast-growing list in late 2011, and went on an acquisition campaign early in the decade. However, revenue soon began to fall, Entropic started posting losses and closing offices, and the business dismissed its CEO.
For every share of Entropic, MaxLinear (NYSE: MXL) will pay $1.20 in cash and 0.22 of a share of MaxLinear class A common stock. MaxLinear paid approximately $111 million in cash and issued approximately 20.4 million shares of common stock in connection with the acquisition.
In a statement, MaxLinear said the acquisition "adds immediate scale and deep customer relationships in MaxLinear's most recent growth area of the satellite pay TV market."
MaxLinear also reported its first quarter financial results on April 30. The business had a net loss of $4.7 million on net revenue of $35.4 million for the quarter ended March 31. One year ago, the business reported a quarterly net loss of $862,000 on revenue of $32.5 million.
MaxLinear describes itself as a provider of integrated, radio-frequency and mixed-signal integrated circuits for broadband communication and data center, metro, and long-haul transport network applications.