SPORTS: FIRMS HAVE EXPERTISE NEEDED FOR FUNDING PROPOSAL
Citigroup, Nixon Peabody Hired for Stadium Finance Talks
Friday, April 24, 2015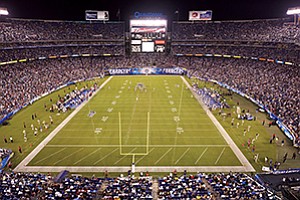 The city of San Diego has hired investment banker Citigroup Inc. and law firm Nixon Peabody LLP to help local officials develop financing options for a potential new San Diego Chargers stadium.
Mayor Kevin Faulconer said in a statement that both firms have "extensive experience" with professional sports facilities throughout the country, including several National Football League stadiums.
"These experts in finance and negotiation will help make sure taxpayers get a fair deal," Faulconer said. "They have a proven track record of getting NFL stadiums done and will ensure that the financing plan we put together in San Diego is rock solid."
New York City-based Citigroup has recently been involved in financing plans for stadiums housing the NFL's Atlanta Falcons, New York Giants and New York Jets, as well as Major League Baseball's New York Mets. The New York projects included stadium revenue pledges that are under consideration in San Diego, including naming rights, premium seating and sponsorships.
Nixon Peabody, an international law firm headquartered in Rochester, N.Y., has provided advice on more than 25 professional sports facilities, including 12 NFL stadiums. It consulted on recent projects such as Levi's Stadium (San Francisco 49ers), AT&T Stadium (Dallas Cowboys) and MetLife Stadium (New York Giants/Jets).
The city and county of San Diego recently entered into an agreement to split the costs of retaining consultants, attorneys and others involved in stadium financing and development matters, with each entity to contribute a maximum of $250,000.
'Creative Tenacity'
County Supervisor Ron Roberts said Citigroup and Nixon Peabody will bring "creativity, tenacity, insight and financial knowledge" needed to prepare a funding proposal.
"The number of experts who have actually negotiated and arranged for financing NFL stadiums is limited," said San Diego City Attorney Jan Goldsmith. "We now have on our side of the table some of the most experienced to help ensure that we do things right and present voters with the best possible deal."
The Citizens Stadium Advisory Group, a mayoral-appointed task force, plans to issue a recommendation for financing a new Mission Valley stadium by May 20.
A study recently released by the National University System Institute for Policy Research said a new stadium, "at a minimum, would cost in excess of $725 million," but that it could cost as much as $1.7 billion by 2020. The estimate was based on data from nationally recognized stadium experts and construction inflation trends.
Rooming With the Raiders?
The Chargers are considering a stadium-roommate arrangement with the Oakland Raiders in Carson.
After a recent meeting with the Citizens Stadium Advisory Group, NFL Executive Vice President Eric Grubman said San Diego needs to speed up its timetable for getting voters on board — possibly with a special election this November or in early 2016.