BIOTECH: RAPID RESULTS IN THE OR SHOULD REDUCE RE-EXCISION RATE
Breast Cancer Detection Device Gives Surgeons the All Clear
Friday, April 24, 2015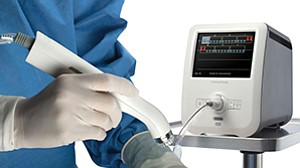 A device now being used at Sharp Memorial Hospital is helping surgeons more thoroughly remove cancerous tissue during breast cancer surgery, reducing the need for follow-up procedures and providing a better chance for patients to recover.
There are two surgical approaches to treating breast cancer. The patient may undergo a mastectomy, in which the entire breast is removed, or she may consider only removing the cancerous area of the breast through a lumpectomy procedure.
The mastectomy is a larger operation that may include reconstruction, resulting in a much longer recovery period, said Dr. Christina Casteel, a general surgeon with Sharp HealthCare. The lumpectomy is good for treating early-stage breast cancer and smaller tumors, Casteel said. About 60 percent to 70 percent of early-stage breast cancer patients choose this option, but many of them must follow this procedure with radiation therapy or additional surgeries.
"Most women will choose a lumpectomy with radiation, understanding that we must have a clean margin at the end of the lumpectomy procedure itself," said Dr. Mark Gittleman, a breast surgeon at Coordinated Health Breast Care Specialists.
A surgeon's goal during surgery is to take out all of the breast cancer tissue along with a rim of normal tissue around it. This is to be sure that all of the cancer has been removed. After surgery, a pathologist examines this rim of normal tissue — called the surgical margin — to be sure it's clear of any cancer cells. If cancer cells are present, this will influence decisions about treatments such as additional surgery and radiation.
At Sharp Memorial Hospital, 17 percent to 20 percent of all patients who undergo lumpectomies must go through a second surgery, Casteel said. That 20 percent re-excision rate is common in hospitals across the country.
Rapid Results
Casteel took the lead in contacting a company in Pennsylvania called Dune Medical Devices Inc. The company had recently developed the MarginProbe, a device that can detect when cancer is present at a tumor's edge or margin. The tool can be used during surgery, and takes only five minutes to analyze tissue. When an alert indicates cancer may be present at a tumor's edges, the surgeon will most often remove more tissue at the corresponding spot in the body, Casteel said. This may prevent the patient from going back under the knife.
Using radio waves, the device scans removed breast tissue from all angles to determine whether cancer remains at any of its margins. The waves pass through normal breast tissue at a different rate than they do cancerous tissue. The diagnostic imaging device, approved by the FDA in 2013, produces a different sound when cancer is detected than it does when tissue margins appear free of cancer. MarginProbe also activates a blue light for a negative (clear) reading and a red light for a positive one.
Without the diagnostic tool, surgeons have to wait days for pathology reports before deciding whether a second surgery is needed.
First Purchase in County
Sharp Memorial received its MarginProbe unit in October of last year, and it has been used in about 15 surgeries so far, Casteel said.
The device costs $50,000 according to a representative from Dune Medical Devices, and each corresponding probe costs $1,200.
There are 55 MarginProbe units in hospitals nationwide, and Sharp Memorial is the first hospital in San Diego County to purchase it.
Casteel said hospital officials hope it will reduce re-excision rates by 50 percent. They will evaluate its effectiveness within the next six months.