County's Median Home Price Is $456,000 for March
Friday, April 17, 2015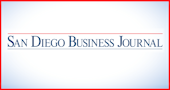 San Diego's median home price increased 6.8 percent year over year, from $427,000 in March 2014 to $456,000 in March 2015, according to CoreLogic Dataquick.
Residential sales in the county increased 13.4 percent year over year, from 3,057 in March 2014 to 3,467 in March 2015, the firm reported.
The highest median sale price last month in the six-county Southern California region was found in Orange County at $580,000. The lowest median priced house sold last month in the region was in San Bernardino at $250,000, according to the April 16 report, which also tracked home sales in Los Angeles, Riverside, and Ventura.
Andrew LePage, an analyst with CoreLogic Dataquick, said the increase in sales is normal at this time of year.
"The bigger news is that sales increased year over year, which is something that's only happened in a few months over the past year," LePage said. "Sales have been hampered by low inventory, especially in the lower price ranges, rising prices and lingering credit hurdles. Price gains over the past two years could trigger substantially more inventory in the months ahead, and that could support higher sales and tame home price appreciation."