HEALTH: S.D. STARTUPS WORKING TO FIND NEWER, MORE POWERFUL ANTIBIOTICS
Help Wanted: Bug Busters
Friday, April 10, 2015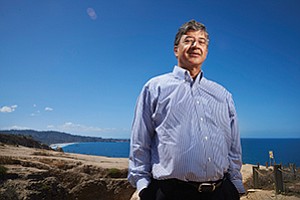 The rising number of drug-resistant "superbugs" ­– and the lack of new therapies to fight them ­– has prompted concerned public health officials to offer incentives to drugmakers to lure them back into the abandoned field of antibiotics.
And San Diego's research community is taking note.
Over the past decade, the pharmaceutical industry moved out of antibiotic development en masse, citing high research costs, poor returns and too much red tape. It saw opportunities to make money elsewhere, with cancer and other chronic disease treatments driving big returns. Consequently, the pipeline for new antibiotics dried up.
To add some perspective, 30 new antibiotics gained approval from the U.S. Food and Drug Administration (FDA) during the 1980s; in the past five years, only three drugs made it through.
There is an acute medical need for new antibiotics, and the situation is becoming more urgent. Bacteria, when confronted by the same old antibiotics, find new ways to survive. The pathogens can be deadly, and antibiotic-resistant infections now kill around 50,000 people a year in the U.S. and Europe. That number is rising, according to the World Health Organization, and public health officials are concerned.
"Antimicrobial resistance is one of our most serious health threats," said Dr. Tom Frieden, director for the U.S. Centers of Disease Control and Prevention. "Infections from resistant bacteria are now too common, and some pathogens have even become resistant to multiple types or classes of antibiotics."
Janet Woodcock, a key leader at the FDA, told the New York Times in 2013 that "we are facing a huge crisis worldwide not having an antibiotics pipeline."
The alarm at the FDA led to new government incentives that are starting to bring innovators back to the cause.
More Money, Fewer Rules
Brent Ahrens, a venture capitalist with Canaan Partners specializing in health care and technology, said the climate for antibiotic development has improved in a few ways. Public and private payers have had talks with drugmakers about making reimbursement more attractive – a longstanding sore point for drugmakers who get squeezed on prices for antibiotics, which are only taken for short periods of time.
"Some would argue that antibiotics, compared with other life-saving drugs like chemotherapies, are vastly underpriced, at least on a relative basis," Ahrens said. "There certainly needs to be some incentives for the industry to step in. We're not just doing this for the fun of it. The government can support some basic research, but at some point people need to see profit motive to advance these therapies."
Regulatory pathways are beginning to look more navigable, as well, Ahrens said. Investors and pharma companies have long had concerns about regulatory barriers, but the Generating Antibiotic Incentive Now (GAIN) Act of 2012 has made it easier for products to make it to the marketplace.
Startups Stepping Up
San Diego's life science hub used to contain some major players in the space until 2013, when Trius Therapeutics was acquired by Lexington, Mass.-based Cubist Pharmaceuticals for $707 million. In the same year, Cubist gobbled up Optimer Pharmaceuticals for $535 million and in 2009 it purchased the San Diego antibiotic-maker Calixa Therapeutics for $402.5 million. While Cubist has offices in San Diego, the company was acquired by Merck & Co. this year for $9.5 billion, and layoffs of its antibiotic discovery team followed immediately after.
Smaller startups in San Diego are cropping up in the aftermath.
"It does get a bit more challenging to compete as success begets success," Ahrens said. "A lot more people are coming into the space, so it's getting competitive. But that can be better for all of us patients."
Given all the change, the San Diego Business Journal sorted out who's doing what in the local arena. Here's a sampling of local companies with antibiotics in the pipeline.