TECH: IT OFFERS ACCESS TO NETWORK OF STUDIOS, CLASSES
Fitness App Aims for Strength in Numbers
Friday, April 10, 2015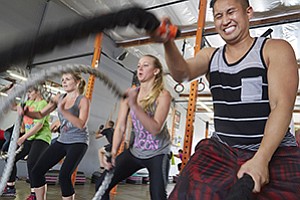 The Internet's middleman economy continues to shake up brick-and-mortar businesses in every industry. The revolution launched by online retailer Amazon two decades ago that nearly wiped out bookstores continues today as consumers bypass hotels in favor of booking rooms via Airbnb and forgo taxis for rides with Uber and Lyft.
Indeed, tech-savvy players are always finding ways to bring convenience to consumers — often wrecking industries along the way.
But a local app company has devised a more companionable approach to entrepreneurship.
Cardiff-based FitN Inc. built a network of over 160 boutique fitness studios in San Diego. The company offers a universal membership to all of the studios in its network for $149 per month, a price that does not compete with the studios' own pricing.
Members schedule a class from a wide array of studios and time slots via the FitN app. When users show up at the studio, they show their smartphone screens to the attendant and stroll into class — enjoying the full benefits of the studio. The value of the membership is in the variety it offers subscribers.
"It's just a great fit for someone with my busy schedule," said Charisse Charters, a member of FitN since its beta launch. "I love the variety of classes and flexibility of scheduling through the mobile app."
Fitness studios are attractive to customers because they offer niche activities such as yoga, Pilates, CrossFit or boxing. This gives members the option to replace iron-pumping or treadmill-stomping with small, varied classes led by instructors. Some studios pull out all the stops, using music, special lighting, and scented towels.
The popularity of boutique fitness studios has skyrocketed in the last few years, and now makes up 20 percent of the health club market, according to recent industry research. Entrepreneur Magazine even went so far as to dub boutique fitness a social trend — "working out is the new going out."
Burning Calories, Building Bridges
David Metzler, founder and CEO of FitN, began attending fitness studios during a break from his high-stress lifestyle as a health tech executive and ex-investment banker on Wall Street. Metzler, 38, was warned by his doctor that he was only years away from a heart attack — a shocking reality check for the ex-Navy rescue swimmer.
Metzler started attending spin and yoga classes shortly after the warning in an attempt to get in shape and reduce stress. Always the businessman, he quickly began to see opportunities in the space.
"I was going to multiple studios and paying drop-in rates each time — which started to add up," Metzler said. "I was also wishing I could work out with my friends, who were part of my accountability structure, but no one had memberships at the same studios. I decided I wanted to create something that would help me exercise anywhere and do it with my friends."
The Competition
At this point, a young tech startup in New York called ClassPass had the same idea. Similar to FitN's model, ClassPass created a national network of studios and gyms, offering their universal membership for only $99 a month.
ClassPass took off with sudden popularity, and was recently valued at $200 million by investors during its Series B financing in January after only two years in business.
Fitness studios were eager to join the network in the beginning, as it offered an innovative way to fill empty slots in classes and bring potential members through the door.
While the popularity of ClassPass continues to spread, complaints from some fitness studios began to crop up. Just this month, studio owners told The New York Times that the discounted price of the universal membership was undercutting the studios' own memberships. Members were cancelling their studio memberships and signing up for ClassPass to get more flexibility at a lower rate.
Won't Weaken the Studios
Metzler has a different approach. While he initially set up the beta testing price at $99 a month for the universal membership, FitN recently announced a jump in price to $149 per month.
"We're moving away from our competitors like ClassPass and the discounter models like Groupon, and creating a model that supports the studios and the fitness ecosystem," Metzler said.
By upping the monthly price, FitN can mitigate fears from studio owners who worry that FitN is the competition rather than a partner.
"Now it's almost always cheaper to join a studio than FitN," Metzler said. "We're no longer competitive, we're a value add."
Some major players in the space agree. Packy Wilson, a fitness industry pioneer and the co-founder of mega-gyms Fitness 19 and Family Fitness Centers (now 24 Hour Fitness), recently led a $2 million investment round in FitN.
"FitN is the future of fitness because they have created a studio- and gym-aligned business model," Wilson said. "Naturally, smart investors all know that the winner is the best studio-friendly solution, and they want to be part of the new fitness paradigm as it is a billion-dollar-plus opportunity."
Extending Studios' Reach
Dan Hark, the owner and master trainer at NXPT Fitness Studio, said that the $99 price point originally made FitN competition. After phoning in some dissatisfaction with the business model, Hark was assured that FitN was moving toward a more studio-friendly model after beta testing was completed.
Now he sees FitN as a way to reach a broader market. The app draws about five to 10 drop-in customers a day, Hark said.
"People generally stick with what's familiar, but this helps them branch out and try new things," Hark said. "Hopefully, they make a connection, and build a relationship with us. Once they do, there's no need to go anywhere else."
Even if FitN drop-ins don't convert to full-time memberships, they still boost monthly revenue. FitN pays each studio a competitive drop-in rate determined off the studio's 10-class pack. Market research indicated that members were only using apps like FitN and ClassPass about eight times per month, Metzler said. The more times a customer visits a studio, the more the studio is paid.
In this way, studios can work together with FitN to build their customer base, fill in classes that normally go empty and get free advertising as well.
"FitN has been a valuable partner in helping us fill excess capacity and open up more class times," said Stephanie Cochrane, owner of La Jolla-based SparkCycle. "With their help we have been able to fill most of our classes to the max over the last four months."
FitN Goals
FitN recently recruited Susanne Conrad, co-founder of the $10 billion yoga clothing retailer Lululemon Athletica Inc., to its board of directors.
Metzler said the company has been getting interest from investors in the industry, and expects a $10 million financing round in the next three to six months.
FitN has accumulated over 1,000 paid members in San Diego, and Metzler expects to close the year with 2,000-3,000 local members. The company also launched a network in Orange County this month, and has plans to expand into Los Angeles and San Francisco this year.