TECH: IT OFFERS ACCESS TO NETWORK OF STUDIOS, CLASSES
Fitness App Aims for Strength in Numbers
Friday, April 10, 2015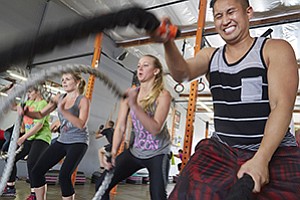 The Internet's middleman economy continues to shake up brick-and-mortar businesses in every industry. The revolution launched by online retailer Amazon two decades ago that nearly wiped out bookstores continues today as consumers bypass hotels in favor of booking rooms via Airbnb and forgo taxis for rides with Uber and Lyft.
Indeed, tech-savvy players are always finding ways to bring convenience to consumers — often wrecking industries along the way.
But a local app company has devised a more companionable approach to entrepreneurship.
Cardiff-based FitN Inc. built a network of over 160 boutique fitness studios in San Diego. The company offers a universal membership to all of the studios in its network for $149 per month, a price that does not compete with the studios' own pricing.
Members schedule a class from a wide array of studios and time slots via the FitN app. When users show up at the studio, they show their smartphone screens to the attendant and stroll into class — enjoying the full benefits of the studio. The value of the membership is in the variety it offers subscribers.
"It's just a great fit for someone with my busy schedule," said Charisse Charters, a member of FitN since its beta launch. "I love the variety of classes and flexibility of scheduling through the mobile app."
Fitness studios are attractive to customers because they offer niche activities such as yoga, Pilates, CrossFit or boxing. This gives members the option to replace iron-pumping or treadmill-stomping with small, varied classes led by instructors. Some studios pull out all the stops, using music, special lighting, and scented towels.
The popularity of boutique fitness studios has skyrocketed in the last few years, and now makes up 20 percent of the health club market, according to recent industry research. Entrepreneur Magazine even went so far as to dub boutique fitness a social trend — "working out is the new going out."
Burning Calories, Building Bridges
David Metzler, founder and CEO of FitN, began attending fitness studios during a break from his high-stress lifestyle as a health tech executive and ex-investment banker on Wall Street. Metzler, 38, was warned by his doctor that he was only years away from a heart attack — a shocking reality check for the ex-Navy rescue swimmer.
Metzler started attending spin and yoga classes shortly after the warning in an attempt to get in shape and reduce stress. Always the businessman, he quickly began to see opportunities in the space.
Prev Next