BIOTECH: MEDICAL DEVICE COMPANIES CHANGE CARE MODELS AND LIVES WITH BREAKTHROUGHS
Means to a Mend
Friday, April 3, 2015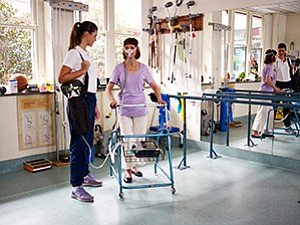 Medical devices often play second fiddle to the more glamorous blockbuster drugs, rarely earning the spotlight for major medical breakthroughs. But they include genuine miracles of modern medicine: pacemakers, artificial joints, replacement heart valves, scanners, and radiotherapy machines.
"The use of any biologic or drug in a hospital requires a medical device to deliver it," said John Watson, a bioengineering professor and co-director of UC San Diego's Jacobs School of Engineering. "And many devices are now combination products like drug-eluding stents."
San Diego has been a leader in the space for decades: The local medical device and manufacturing clusters deliver over $21 billion in total economic activity and 102,000 jobs to the Southern California economy, according to Joe Panetta, president and CEO of the life sciences trade association BIOCOM.
The San Diego Business Journal chose four industry-changing devices developed right here in San Diego to highlight in this special report.
A Cut Above
In the past, traditional spine surgery to treat conditions such as scoliosis required a sizeable incision and a dangerous amount of time on the operating table, and typically left patients with a hefty hospital bill.
San Diego-based NuVasive Inc. changed spinal surgery forever in 2002 when it introduced a technology now called NVM5 Nerve Monitoring System. Surgeons use the system during spinal surgery to monitor the patient's nerve position and activity during the procedure.

NuVasive's technology made a new kind of spinal surgery possible — a procedure called extreme lateral interbody fusion, or XLIF. This less invasive approach requires an incision on the side of the body, avoiding the sensitive back muscles, bones and ligaments that are at risk during a traditional back or abdomen incision.
The XLIF procedure has cut the time on the operating table from as many as four hours to one hour, significantly reduced blood loss, lowered the risk of complications and reduced the length of hospital stays, according to a peer-reviewed study published by the International Society for the Advancement of Spine Surgery.
Risk Management and Healthcare Policy, a medical journal, published a study that found noninvasive spinal surgeries are about 10 percent cheaper for hospitals to perform compared with traditional procedures.
Due to reduced risk, lower costs and faster patient recovery, NuVasive's technology has been used in more than 300,000 spine procedures across 35 countries.

Special Delivery
Infusion pumps have been used since the late 1960s to deliver drugs intravenously (IV). For the first 30 years, medical staff could infuse fluids and drugs at any programmed setting. Unfortunately, the pumps gave no warning to caregivers if the infusion was programmed in error, sometimes leading to inadvertent and potentially serious IV medication errors.
Enter the Alaris System.
The system has had a dizzying number of parent companies, but was first developed by a local firm named Alaris Medical Systems in 1996. The company was acquired by Cardinal Health Inc. in 2004, but then spun off in 2009 as San Diego-based CareFusion Corp.
CareFusion was sold this year to medical technology giant Becton, Dickinson and Co. for $12.2 billion — the second-biggest purchase of a life science company in the region.
Much of CareFusion's financial success has to do with its infusion business, which brought in over a billion dollars in revenue during 2014, according to a recent regulatory filing.
The technological breakthrough that led to big sales came in the form of a chip that could be programmed with a hospital-specific drug library, making "smart" infusion pumps. Now, when a nurse enters infusion parameters in the pump, safety software checks the entry against the hospital's drug library. If the infusion parameters entered are outside the normal window, an alert is given to ensure the entry is correct.
These devices have become popular among acute care facilities with as many as 41 percent of U.S. hospitals already using smart infusion pumps today, according to a study published by the American Medical Informatics Association in 2013. Because of the potential for medication safety improvement, "smart" technology is now required in all new pumps being developed in the U.S.
Market Sensitive
There are many risks associated with sleep apnea, a dangerous condition in which breathing is interrupted during sleep.
Those risks may be particularly dangerous to women, who have subtle symptoms and are often misdiagnosed, according to a recent study by the UCLA School of Nursing.
"We now know that sleep apnea is a precursor to bigger health issues," said lead researcher Paul Macey. "And for women in particular, the results could be deadly."
San Diego-based ResMed Inc. developed the first and only FDA-cleared device that provides tailored sleep apnea therapy for women based on specific female breathing patterns.
The AirSense 10 AutoSet for Her is a flow generator designed to look for female markers of sleep disruption. The user wears a mask that increases air pressure to her throat, preventing the airway from collapsing while breathing in.
The new device, released in 2014, is loaded with extra features such as a heated humidifier and built-in wireless connectivity.
After the AirSense 10 was launched, ResMed saw a 16 percent growth in flow generator sales revenue globally, and a 25 percent growth in the Americas.
The Right Connections
Patients with diabetes need to test blood sugar levels multiple times a day, gauging how food, exercise, sleep and medications affect their health.
But with the increasing number of children diagnosed with diabetes, self-monitoring blood glucose levels doesn't quite cut it. More eyes need to be on the data, particularly the eyes of the parent or caregiver.
San Diego-based DexCom Inc. offered a solution to the data-sharing problem with the DexCom G4 Platinum Continuous Glucose Monitor with Share.
The Dexcom G4 Platinum is composed of a sensor, a transmitter and a monitor. The sensor, which is the diameter of a human hair, is inserted under the skin of the abdomen, where it continuously monitors the glucose level of the fluid between cells. These values are sent to the monitor via the transmitter every five minutes for up to seven consecutive days.
DexCom Share, a new data-sharing accessory, uses a secure wireless network via Bluetooth to transmit the glucose levels to an app on the user's smartphone.
From this app, the data can be transmitted to the smartphones of up to five designated recipients such as parents or other caregivers.
Using the iPhone or iPod touch (and, in the future, Android devices), these followers can remotely monitor the glucose data and receive alert notifications from almost anywhere.