PROPERTY: SYNERGY SEEN IN GROWING TENANT RANKS
Liberty Station Keeps Recruiting
Friday, April 3, 2015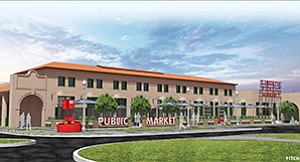 Nearly 20 years after it was shuttered by the military, the conversion of the former Naval Training Center in Point Loma into a vibrant commercial and cultural attraction appears to be shifting into high gear.
Before the year is out, the mixed-use development known as Liberty Station is expected to have a six-screen movie theater, an ice-skating rink, an open-air public market, at least two full-service restaurants and a comic-book art gallery in the relocated headquarters of IDW Publishing.
By early 2016, construction is expected to begin on three hotels slated for the southeast portion of the former military property, being planned by Liberty Station's master developer, San Diego-based Corky McMillin Cos.
The phased-in $150 million, 650-room hotel development — featuring a Hampton Inn, an Embassy Suites and a TownePlace Suites by Marriott — is also expected to include its own on-site restaurant and public promenade.
Those features will add to existing cultural, educational and commercial tenants that have gradually been attracting new crowds for the past several years, including Corvette Diner, Vons, Trader Joe's and most recently Stone Brewing World Bistro & Gardens.
Much of what is coming this year to Liberty Station is the result of planning and tenant negotiations going back nine months, and the mixed-use development is lining up crucial elements providing "synergies" that officials have long been seeking, said Joe Haeussler, an executive vice president with Corky McMillin Cos. who handles commercial leasing at the former military training site.
Comic Book Gallery
He said the volume of tenant inquiries and the pace of leasing at dozens of long-vacant historical buildings, on property spanning more than 500 acres, has been picking up as the development approaches a critical mass of visitors attracted to new venues. A generally improving post-recession economy, along with the 2013 arrival of Stone Brewing Co.'s 23,500-square-foot restaurant and brewery, have helped boost Liberty Station's profile among tourists and locals.
"You have a situation where you'll have people looking to go out to eat after going to the movies," Haeussler said of the coming new elements. "This is the kind of thing that's going to bring synergy and raise the tide of demand for space; we're able to be pickier now about who we bring in."
Liberty Station is already home to several office tenants, and the latest corporate move-in is IDW Publishing, a fast-growing firm that distributes comic books and graphic novels and is in the process of moving its headquarters with 50 employees from Pacific Beach to a former barracks on the Point Loma property.
IDW expects to be settled in by late April or early May, and its new venue will include a comic book art gallery, opening in early June with a rotating gallery of artists starting with works by Teenage Mutant Ninja Turtles creator Kevin Eastman.
At 18,344 square feet, officials said IDW Publishing will be the largest tenant in the vibrant NTC Arts & Cultural District at Liberty Station, which is now home to nearly 80 museums, galleries, artist studios and related creative and educational spaces.
"We searched a while for a place that we felt would be right for us — not only in terms of size, but also the cultural fit with what's nearby," said Greg Goldstein, president and COO of the 16-year-old IDW Publishing.
Luce Auditorium Renovation
Not far to the east of IDW's new digs, the nonprofit NTC Foundation, which oversees the arts district, is working with La Jolla-based Backlot Hospitality on an extensive renovation of the historic Luce Auditorium, built in 1941 but sitting unused for most of the years since the former Navy base was closed in 1997.
Financial terms were not disclosed, but plans call for the 20,000-square-foot auditorium to be converted into a new events space with six movie theaters, called TheLot/ Liberty Station. Renovations are expected to begin in April and an opening is slated for late autumn, with offerings geared to special events, art, film and food.
Operators said the venue will also have an outdoor covered lounge for dining and socializing, overlooking the large courtyard outside the auditorium.
Before the year is out, said NTC Foundation Executive Director Alan Ziter, a popular public ice-skating rink that has been operated for several years at Horton Plaza by a local hospital foundation is expected to relocate to Liberty Station. Ziter said the rink will bring a new community gathering hub to a spot on the courtyard opposite Luce Auditorium.
Hotels and Restaurants
NTC Foundation was established in 2000 by the city of San Diego to oversee culture-oriented renovations and programming at the former training base. The foundation has completed work on 16 of the 26 buildings within the cultural district, investing about $49 million in projects, and work on the remaining 10 sites is expected to cost around $25 million in coming years.
"We're getting filled up — the buildings that we've renovated are nearly 100 percent occupied at this point," Ziter said.
By late summer or early fall, Liberty Station developers and Coronado-based Blue Bridge Hospitality plan to open the previously announced Liberty Public Market, a year-round, indoor-outdoor venue featuring local sellers of items such as fresh meats and produce, in a former Navy mess hall dating back to 1921 and undergoing about $5 million in renovations.
Blue Bridge Principal and owner David Spatafore, who operates several restaurants in Coronado, said tenants will soon be announced for the 21,000-square-foot public market. He said the venue is being designed with social spaces that have lots of open seating, and will feature smaller "mom-and-pop" businesses.
"Although the market is large overall, it is the small artisan nature of each tenant that makes it different from what currently exists in Liberty Station," Spatafore said.
Also debuting at Liberty Station, likely this spring or early fall, are new locations previously announced by two well-established local restaurant companies.
Patio Restaurant Group, which has existing locations operated by Gina Champion-Cain in Pacific Beach and Mission Hills, has a new 300-seat indoor/outdoor restaurant and bar called The Backyard, opening in a former Navy firehouse on Perry Road. A 4,700-square-foot space on Dewey Road is the site of Soda & Swine, a new sister restaurant of the popular Normal Heights eatery operated by executive chef and co-owner Jason McLeod.