Honor the Dynamic Women of Your Company — Nomination Deadline Extended
Thursday, September 25, 2014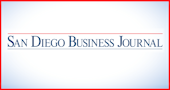 The San Diego Business Journal is now accepting nominations for the 2014 Women Who Mean Business Awards, which recognizes the top women business leaders who have made a difference to San Diego's businesses and organizations.
Now in its 21st year, the awards program is slated for Wednesday, November 5 at Town and Country Resort and Convention Center and will recognize finalists and winners in the following categories: Accounting/Finance; Arts/Culture/Hospitality; C-Suite/Founders; Education/Research; Health/Health Care; Legal; Medical Devices/Pharmaceuticals; Medical Research; Nonprofit/Government; Real Estate/Construction/Design; Technology; and Venture Capital.
The San Diego Business Journal applauds these leaders by hosting our biggest and most anticipated reception and awards program of the year!
Deadline for nominations is October 6.
Title sponsor for the program is Union Bank.
To nominate online: click here.
For additional information, contact the events department at 858-277-6359.