TRADE: GOODS GO MOSTLY TO MEXICO'S MAQUILADORAS
Region's Exports Hit Record Level in 2013
Friday, September 12, 2014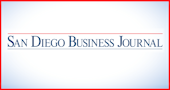 Exports emanating from San Diego grew 4 percent last year to a record $17.9 billion, says a recent report from the U.S. Department of Commerce's International Trade Administration.
Nearly all of those goods go south to Mexico and returned to this region to be transported elsewhere.
Kelly Cunningham, an economist with National University System Institute for Policy Research, noted that the great bulk of the exports are goods moved to Tijuana plants called maquiladoras where they are assembled into finished products, and then moved back to San Diego.
"The values of the goods are counted as both exports and imports," Cunningham said. "We're using Mexico as a place to assemble products and using cheaper Mexican labor."
In a study Cunningham did last year based on 2012 data, he found that Mexico accounted for 97 percent of all of San Diego's exports, and 82 percent of the region's total imports.
Multinational Presence
Larger, multinational corporations that have plants in Tijuana and administrative offices here, such as Sony, Sanyo, and Kyocera, dominate the export activity here.
DJO Global, a Vista-based manufacturer of orthopedic braces and other medical devices, reported second quarter sales in its international segment of $84.6 million, accounting for 27 percent of its total sales of about $314 million. International sales were up 7.5 percent from the same quarter of 2013, according to the company's securities filings.
About half of DJO's international revenue comes from Germany and France, said Matt Simons, DJO's senior vice president, business development.
At the other end of the export spectrum is Grace Digital Inc., a San Diego-based maker of audio equipment. While the seven-year old company now derives only about 3 percent of its total sales from foreign sources, it should expand that over the coming year, said Greg Fadul, the firm's chief executive.
Much of the exports go to the United Kingdom and Germany, but it also generates sales in Australia, Latin America, and Singapore, he said.
"It takes a long time to build relationships with distributors," Fadul said. "But once you get to know a market then you can concentrate less on the process of getting established, and more on building your business and sales."
Paul Thomas, president and founder of Julian Hard Cider, said his ciders are exported to seven countries but by year-end it should be selling in Japan, South Korea and the United Kingdom.
He declined to provide dollar amounts but said exports account for about 5 percent of total sales this year and should rise to 10 percent next year.
Thomas said his product is capitalizing on the growing popularity of craft beers made in San Diego and other regions of this country.
"Our sales have increased about 40 percent every year (since founding in 2009), and cider is the fastest-growing alcoholic beverage category in the nation," he said. "There is a growing demand for American-made alcohol products worldwide, especially in Asia and China."
Setting up distributors in a foreign country isn't easy and takes time, but it's something Thomas said he truly enjoys. "I love to travel and meet new people. To me this is fun."
Julian Hard Cider will soon begin making its cider in 12-ounce bottles, a move that should help the product break into several new markets.
Worth the Effort
Forging agreements in foreign markets takes much longer than in this country, but the effort can be worth it, Thomas said. Competitors who think it's too much trouble and time-consuming often don't even try, but if you like people, and making more sales, exporting is a great way to go, he said.
Matt Andersen, director for the San Diego office of the U.S. Commercial Office, part of the Department of Commerce, said more California companies are finding fertile ground in foreign markets. "Many smaller businesses have proven that exporting is viable and profitable," Andersen said. "The Internet, improved logistics options, and available U.S. government export assistance has made exporting for small businesses more attainable than ever."
Cunningham said in recent years, elected officials and policymakers have recognized the critical impact that helping companies expand their exports has on the local economy.
"Exports are a real increase in dollars coming into the region," he said. When companies generate sales within a region, those dollars are essentially being recirculated. By making export sales, new dollars are created locally, he noted.
"It has a much bigger multiplier effect on the economy," Cunningham said.