TOURISM: CITY WILL GET MUCH NEEDED MEETING SPACE
Planned Hotels Would Be Boost for Oceanside
Friday, September 5, 2014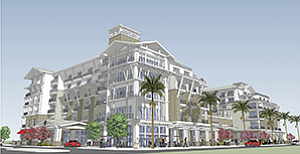 A $150 million resort development being planned in downtown Oceanside includes what would be that city's first full-service hotel, as it seeks its share of a growing influx of North County coastal visitors and related economic benefits.
Pending approval of financing plans scheduled for review by the Oceanside City Council on Sept. 10, developer S.D. Malkin Properties Inc. plans to build a two-hotel destination resort, with a total of at least 360 guest rooms, spanning two contiguous blocks of downtown Oceanside.
The project includes preserving historical elements in the vicinity, including a long-vacant Victorian-style house once used to film exterior beachfront scenes for the movie "Top Gun," which will be relocated to a new spot within the development, said Jeremy Cohen, senior vice president in the San Diego office of S.D. Malkin.
Cohen said the Top Gun house will be rehabilitated as part of the northern block of the new development, which will be anchored by a 135-room boutique hotel, with branding still to be finalized.
First to be developed would be the southern block, anchored by a larger full-service hotel with 225 rooms — likely to be branded along the lines of a Hyatt Regency or Westin — expected to start construction in January 2016 and open in late 2017.
Coming Attractions
According to a city staff report, the project at full buildout would also include 36,000 square feet of public open space and 18,500 square feet of visitor-serving retail and other commercial space. There would be a total of 20,000 square feet of meeting and function space, including a 6,400-square-foot ballroom in the first-phase hotel.
"There's an opportunity to bring in some improvements that the city has been trying to do for about 25 years," Cohen said.
Developers and city officials said the full-service hotel is likely the most crucial portion of the project, as it contains the ballroom that will give Oceanside its first major venue to host large corporate and other group meetings in a hotel setting.
To help support initial development of the ballroom, parking garage and other public spaces in the project, City Council will be reviewing a financing plan in which the city will provide a subsidy of approximately $13.6 million, the bulk of which consists of temporary rebates of transient occupancy taxes expected to be generated by the project.
City officials have projected that the development at full buildout will generate $3.4 million in annual TOT collections, and the agreement being reviewed by City Council includes rebating a total of $11.3 million in TOT collections during the first 15 years, after which all collections would be retained by the city.
Most of the hotels that have opened in Oceanside during the past few years are limited-service properties, including Marriott's Courtyard, Residence Inn and SpringHill Suites formats.
For years, said former Oceanside City Manager Peter Weiss, those attending high-profile beachfront events in the city — including national swimming, triathlon and volleyball tournaments — have wound up taking hotel rooms in Carlsbad and other neighboring cities.
The need for additional hotels in San Diego County's third-largest city will be further demonstrated later this fall, when new youth soccer fields are expected to open in the El Corazon development not far from downtown, with plans to eventually host regional and national tournaments, he said.
Full-service hotels, along with access to nearby mass transit including Coaster train service, give Oceanside a chance to attract conventions, as well as vacationers seeking a single home base for a trip to the larger San Diego region.
"There's no reason we can't have people staying in Oceanside for the beach, and maybe heading out to the wild animal park in Escondido for a day," said Weiss, who is currently consulting for the city on the S.D. Malkin project.
Diversifying Downtown
He said the two-hotel development should also help Oceanside continue to diversify its downtown business offerings to serve a local residential population that is growing well beyond its longtime roots as a military hub, with Marine Corps Base Camp Pendleton north of the city.
In addition to an upscale restaurant at the newly opened SpringHill Suites, other recent downtown-area openings have included a craft-beer venue called Bagby Beer Co. and new locations operated by San Diego's Cohn Restaurant Group and Escondido's Stone Brewing Co.
"They're seeing that the dynamics of the downtown are changing," Weiss said.
The S.D. Malkin project has received city approvals as well as its state coastal development permit. The project spans an area between Pacific Street on the west, Myers Street to the east, Seagaze Drive on the south and Pier View Way to the north.
The project has been planned since 2008 by Connecticut-based S.D. Malkin Properties, which has a regional office in San Diego. Progress was first delayed by the national economic downturn, which dampened demand for new hotels, then by the state's 2012 move to disband redevelopment agencies.
Local redevelopment money was initially expected to supply about $28 million in city-originated funding for the Oceanside development. Under current plans, the successor to Oceanside's redevelopment agency is selling the project land to the developer for $1.5 million.
Gaslamp Goal
With continued improvement in the hospitality economy, S.D. Malkin is looking to replicate what it did in downtown San Diego in the late 1990s, when it developed the Hilton San Diego Gaslamp Quarter hotel with several adjacent retail properties. The hotel was the first to open in the Gaslamp in nearly a century, and spurred several other developers to set up hotels and restaurants in the neighborhood.
"We tend to look for projects that we think will turn out to be catalysts for other things down the road," Cohen said.