BIOTECH: THE DEVICE IS A LESS EXPENSIVE SOLUTION FOR INCURABLE SKIN DISORDERS
Company Develops Prototype for Treatment of Rare Skin Diseases
Friday, September 5, 2014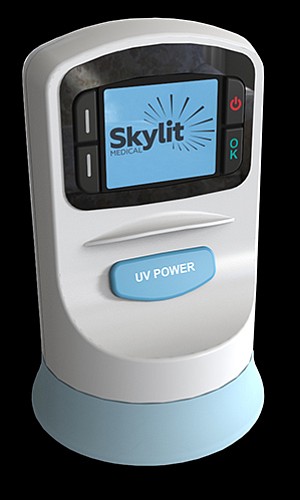 Martyn Gross has suffered from psoriasis for most of his life, particularly on the difficult-to-treat regions of the hand and feet. After years of trying costly and ineffective treatments from uncomfortable phototherapy sessions in cold medical facilities to topical creams that wash off too easily, Gross decided to develop a handheld light therapy device to treat himself at home.
Gross is now CEO of Skylit Medical, an EvoNexus startup focused on developing his in-home light treatment into a device available to patients suffering from psoriasis, eczema and vitiligo.
"We are a frustrated group, because this is an inflammatory condition for which there is no cure, so we spend $10 billion per year to solve this problem," Gross said, adding that most of these dollars go to systemic and biologic drugs, which are costly for patients.
UVB phototherapy is not a novel treatment for these autoimmune skin conditions, but phototherapy clinics require patients to invest time, effort and money into sessions.
"You have to take time off of work, drive to a clinic, sit in a waiting room, then go take your clothes off — which is embarrassing — and then you go under the light for about a minute." Gross said. "It's like an hour and a half to two hours of time out of your day for about a minute of treatment."
In-home treatments have been pioneered by other companies but lack convenience and affordability. The existing devices range in size from the dimensions of a briefcase to a monstrous machine the size of a retro arcade game. Instead of shooting down galactic aliens for a quarter, the device requires you sit in front, shield your eyes with goggles and get blasted by UVB light. These existing devices average several thousand dollars and are generally not covered by insurance.
Skylit's device is handheld and set up on an out-of-pocket subscription service for patients to essentially lease it and use it at home. The patient would receive a prescription from a dermatologist, and then the doctor-programmed device would do the rest of the work — tracking treatments and other useful data for the patient and physician.
"You can literally just use it while you're sitting on the couch watching TV," Gross said. "I didn't want it to be disruptive to your lifestyle."
Skylit is able to scale down the size of the device due to its use of LED light bulbs. The design was challenging, Gross said, but ex-CareFusion Inc. Director of Engineering and Vice President of Research and Development Andre Gamelin is leading a team of engineers through the process.
Other than Gross' personal prototype, the device is not yet manufactured. Gross said the company intends to include a screen for displaying data to the patient and bluetooth and wireless capabilities to transmit prescription data to the dermatologist. Eventually, Gross hopes to include a camera on the device so that the skin conditions' progression can be tracked by a dermatologist.
The device does not yet have a price tag, but could cost around $350 out-of-pocket, Gross said, adding that market research indicates patients would be willing to pay anywhere from $500 to $2,000 for the device.
The company is in the midst of a $2 million seed round, having raised about $150,000 by the end of July, according to a regulatory filing. Gross said it hopes to raise over $3 million, however, in its Series A round.
Skylit was crowned the "hottest" digital health care company in Southern California at the medical technology event, DeviceFest 2014, hosted by the trade association for the San Diego life sciences industry, Biocom.
SKYLIT MEDICAL
CEO: Martyn Gross
Revenue: Pre-revenue
No. of local employees: 3
Investors: David Hale
Headquarters: La Jolla
Year founded: 2014
What makes the company innovative: Tackling in-home treatment of skin conditions with LED handheld device
Key factors for success: First to market with convenient and affordable treatment device