LEGAL: TECH COS. FACE PERILS OF POSSIBLE LAWSUITS FROM BEGINNING TO END
Knowing the Twists and Turns Is Key to Navigating IP Course
Friday, October 31, 2014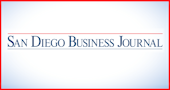 The innovative companies that make up San Diego County's technology sector must tread carefully to avoid becoming the targets of intellectual property lawsuits.
Because the market for new technology is highly competitive, companies must continually strive to come up with new products. Each time they do, they have to be careful not to infringe on existing patents, said Lisa Haile, a partner in the DLA Piper law firm.
"Understand the intellectual property landscape in your particular tech area, so you are clear on what patents exist and which are potentially landmines," she said. "You want to be on top of this."
Attorneys frequently are hired to conduct research to make sure no patent conflicts exist before new products are developed, she said. It's best to do this while products are in the conceptual stage, before money has been spent on research and development.

To stay out of court, it's important for companies that develop products to get sound legal advice, said Benni Amato, a partner with the law firm of Gordon & Rees LLP.
Potential Conflict
"Even if the attorney gives you a clearance, that doesn't mean the patent owner will agree," she said. "That's definitely a concern. Even a company that isn't doing a whole lot of innovation has to be aware of the law."
Attorney Tom Arno, a partner with the law firm of Knobbe Martens Olson & Bear, LLP, agreed that it's a mistake to develop products before fully researching related patents in your field. Established companies are sensitive to competition and won't hesitate to assert their patent rights.
Bigger Problems
Startups with limited financial resources may find themselves at a disadvantage if they get into a legal dispute with large, well-funded companies, Arno said..
"The closer you are to startup, the more important attaining IP (intellectual property) protection for the innovations you're making is," Arno said. "If you have a good idea and it turns out you are developing something that could be popular and lucrative, larger companies are going to take notice. Larger companies with name recognition and large financial resources have a leg up, in terms of distribution and marketing.
"Having some IP protection is a key part of startups maintaining their momentum against larger, more established clients."
Protecting Your Innovations
Attorney Richard Kim, a partner in the law firm of Duane Morris LLP, said new companies sometimes neglect to file for patents from the U.S. Patent and Trademark Office. That's because they feel they lack the financial resources to go to court to protect their intellectual property rights.
"The danger of not filing to protect your innovation is, as soon as you launch your product or service, a competitor can see exactly what you did and copy you, taking advantage of all of the R&D effort your company has put in. If you have spent a lot of time and money developing a technology and don't protect it, all the work can be copied."
It typically takes a patent three years or more to be issued, Kim said. By that time, a startup may have gained the resources it needs to file a patent infringement lawsuit to protect its IP.
Planning Your Exit
Many startup technology firms ultimately hope to be acquired by larger companies. If so, they can increase their value by making sure that their innovations have patent protection, Kim said.
Before large companies make offers to buy startups, they typically evaluate the strength of their patent portfolios, he said.
"Patents serve a number of purposes," he said. "The ability to go to court is just one of them. What patents do for a startup is provide value, in the sense that they tell everyone the startup is a leader in the field. It is developing and protecting its innovations."