Biocom Institute Seeking Applicants for Veterans Mentoring Program
Wednesday, October 29, 2014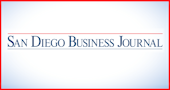 The Biocom Institute, the educational and workforce development arm of the life sciences trade association Biocom, is now accepting applications from military personnel interested in participating in its Veteran Career Mentoring Program.
The program, launched this year, helps local veterans returning to civilian life become familiar with the life sciences industry, its representatives and available careers through online training, industry conferences, career workshops and one-on-one mentoring by a life science leader who has successfully transitioned from the military. Ideally, participation in the program will lead to jobs in the industry, said Ashley Reynolds, the nonprofit institute's program manager.
"Veterans with any background are invited to apply," she said, adding, "an interest in learning more about the industry is key."
Reynolds said a majority of the 2014 applicants had no background in life science, but expressed interest in applying skills learned in the military.
Reynolds said Biocom expects to serve 30 veterans in 2015, 10 in each of three sessions: January - April, May - August, September - December. Next year's program is being partially funded by San Diego Gas & Electric. Eventually, she said, the institute hopes to raise enough funding to serve 60 veterans per year. For more information: theinstitute@biocom.org.
The institute also is developing another initiative aimed at veterans: Fatigue to Labs. This program would enroll veterans in an intensive, six-month training program that would equip them to work as highly skilled lab technicians.
The program awaits funding. Reynolds said the institute has applied for a grant from the National Science Foundation to administer the program jointly with Cuyamaca Community College and is pursuing other funding opportunities, including partnering with a private lab or institute.
Companies or individuals interested in helping to develop the Fatigue to Labs program should contact Executive Director Liisa Bozinovic at lbozinovic@biocom.org.