Oliver Fetzer Named CEO of Synthetic Genomics Inc.
Monday, October 27, 2014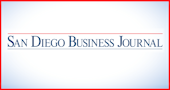 Synthetic Genomics Inc., a San Diego-based startup founded by human genomics pioneer J. Craig Venter, announced the appointment of Oliver Fetzer as the company's new chief executive officer.

Fetzer also will join the Synthetic Genomics (SGI) board of directors. Founding CEO, Venter, will remain involved in SGI as executive chairman and co-chief scientist with Co-Founder Hamilton Smith. Venter is also co-founder and CEO of the company Human Longevity Inc., and founder, chairman and CEO of the not-for-profit J. Craig Venter Institute – both based in San Diego.
"I am excited to welcome Oliver as the new CEO of SGI," Venter said. "His decades of proven biotechnology product development experience coupled with his scientific intellect and measured leadership style will help drive SGI's continued upward trajectory. I look forward to working with Oliver and the executive team to continue to meet our goals of turning SGI's science and technology into commercially viable and societal changing products."
Fetzer will lead all aspects of SGI, including management of SGI's three business units − SGI-DNA, Synthetic Genomics Vaccines Inc. (SGVI) and Genovia Bio. Over the last several years, SGI has refined its business plan to leverage and deploy its core synthetic biology technologies in a variety of industries.
"I am thrilled to become the CEO of Synthetic Genomics, a company that unites leading science with a strong platform to address some of the world's pressing needs and a proven track record of applying these capabilities in high profile partnerships," Fetzer said. "I look forward to working with Craig and an exceptional team to fulfill SGI's vision and to advance the company into commercialization."
Fetzer comes to SGI from Cerulean Pharma Inc., a pharmaceutical company that develops oncology therapeutics, where he was president and CEO for five years. Under Fetzer's leadership, Cerulean advanced from a pre-clinical platform company to become a publicly traded clinical development stage company with a pipeline of product candidates.
Prior to Cerulean, Fetzer served in variety of positions at Cubist Pharmaceuticals Inc., including senior vice president of corporate development and research and development, senior vice president of corporate development, chief business officer and senior vice president of business development.
SGI is a privately-held company developing genomic-driven solutions to address a wide range of global challenges. The company is focused on several commercialization programs including developing new synthetic DNA products, tools and instruments through its subsidiary, SGI-DNA. The company is also involved with research for new and improved algae-based food and nutritional products and biofuels through its subsidiary Genovia Bio; and synthetically-derived vaccines and anti-microbials through Synthetic Genomic Vaccines Inc. (SGVI), a business unit co-founded with the J. Craig Venter Institute.