Third-Quarter Net Income Rises for San Diego Private Bank
Sunday, October 26, 2014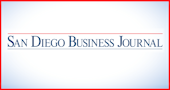 San Diego Private Bank, which just announced the acquisition of all the loans and deposits of First Security Business Bank, reported third quarter net income of $723,000, up 58.6 percent from the like quarter of last year.
For the nine months, net income at SDPB was $1.79 million, up 73 percent from the like period of 2013.
As of Sept. 30, total assets were $343 million, up 5.6 percent from the same quarter of last year. Loans came in at $277 million, up 31 percent from the prior year's third quarter.
Deposits grew 7 percent over the year to $283 million.
CEO Maria Kunac said the bank's loan volume grew as it expanded its commercial real estate and construction lending.
The bank also benefited from increased liquidity that resulted in higher margins. The net interest margin last quarter was 4.36 percent, up from 4.11 percent in the prior quarter.
SDPB posted capital ratios that exceed minimum levels to be considered well-capitalized with total risk-based capital at 17.26 percent.
Nonperforming assets at the end of September were 1.96 percent of the total assets, down from 2.99 percent for the like quarter last year.
SDPB said it's agreed to purchase $56 million in loans and $28 million in deposits from First Security Business Bank of Orange in a deal expected to close this year, or the first quarter of 2015.