San Diego Private Bank to Acquire First Security Business Bank
Thursday, October 23, 2014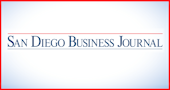 San Diego Private Bank, which merged with Coronado First Bank in April 2013, is expanding again, having signed a definitive agreement to acquire all of the loans and deposits of First Security Business Bank, a one-office industrial bank in Orange. The price paid by San Diego Private Bank wasn't revealed.
The transaction, subject to regulatory approval, is expected to close in the fourth quarter of this year or the first quarter of 2015. It entails SDPB acquiring $56 million in loans and assuming $28 million in deposits from First Security Business Bank, a subsidiary of First American Financial Corp., based in Santa Ana.
The loans and deposits will be moved down the road to SDPB's Newport Beach office, and First Security's single branch will close, the parties said.
Jim Bresnan, CEO of First Security, said the deal is part of the company's long-term plan to exit commercial lending.
First American Financial, a provider of title insurance and settlement services, reported $80.7 million in net profit for the third quarter, compared to net profit of $63.9 million in the like quarter of 2013.
The acquired assets will push SDPB near $400 million in total assets. In the second quarter, the local bank reported nearly $340 million in assets.
First Security reported $74 million in assets as of the end of June, down from about $103 million one year earlier.
With the sale of First Security's assets, California now has only four industrial banks. The banks can make loans and take deposits, but do not offer checking accounts.