PROPERTY: INFRASTRUCTURE IMPROVEMENTS BEING MADE
Housing Seen as Key for Border Region Growth
Friday, October 17, 2014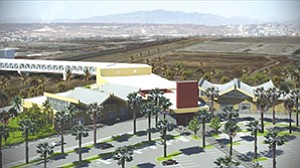 Pieces are slowly falling into place to turn the Otay Mesa region into a vibrant future hub of cross-border business activity. And if one recent high-profile deal is an indicator, observers say the border-adjacent region could become more attractive to those investing in residential projects.
Availability of affordable worker housing is one of many key factors for businesses that might decide one day to locate in the area just north of the San Diego-Tijuana border, said experts at a recent forum presented by the local chapter of the Urban Land Institute.
Kaitlin Murphy, executive vice president of Murphy Development Co., which has built several industrial parks in Otay Mesa, pointed to a big recent deal in that neighborhood that did not involve her company: R&V Management Corp. of San Diego purchased the 644-unit Greenfield Village apartment community for $150 million, in a deal brokers said was the local region's largest multifamily transaction so far in 2014.
"It's an important validation of the residential market in Otay Mesa," said Murphy, whose San Diego company, led by President R. Michael Murphy, recently began grading on its latest border-adjacent industrial development, known as Brown Field Technology Park.
Experts also noted smart-growth, mixed-use projects under way in South County, including Corky McMillin Cos.' Millenia project in Chula Vista, and the city of San Diego's recent update of the community plan for Otay Mesa, calling for creation of two sustainable, high-density villages with an emphasis on walkability and access to public transit.
Jason Wells, chief executive of the San Ysidro Chamber of Commerce, said communities in the region will welcome new housing as border-area roadway and other infrastructure enhancements are completed.
"San Ysidro is not the kind of community where you're going to have a lot of NIMBY-ism," Wells said, referring to the not-in-my-backyard response of some neighborhoods to new developments. "We would like to see some high-density projects."
Business-Climate Change
New border-area residential offerings hinge on the region becoming a viable place to do business, and experts said several infrastructure projects in various stages of completion should go a long way toward easing longtime problems related to excruciating traffic wait times at the San Ysidro and Otay Mesa border crossings.
Relief is already being seen from the completed early stages of what will be nearly $1 billion worth of improvements being done at the San Ysidro port of entry, where new entry and exit lanes, inspection facilities and pedestrian walkways have been installed.
To the east at Otay Mesa, the state has begun work on Route 11, a four-lane freeway that will eventually connect a planned new border crossing – a toll-based facility informally called "Otay 2" — with state Routes 905 and 125. The current Otay Mesa crossing is also being upgraded to streamline traffic.
Those and other infrastructure improvements, experts said, will need to be completed before the San Diego-Tijuana region can become a highly functioning economic power.
Big Opportunity
"We are the largest cross-border metropolitan area in the world, and we need to take advantage of that," said James Clark, executive director of the San Diego-Tijuana Smart Border Coalition, a bi-national economic development advocacy organization.
A 2006 impact study by the San Diego Association of Governments noted that nearly 730,000 trucks travel north across the San Diego County/ Baja California ports of entry from Mexico annually, with a similar number crossing southbound.
More than 60 million people, including drivers and pedestrians, cross the border annually, with more than half of those trips for shopping and recreation, and about one-sixth related to commutes to and from work.
SANDAG predicted in that report that if steps were not taken to ease border crossing delays, the San Diego/Baja region's annual economic output loss would reach $9.9 billion annually by 2014, costing the border region more than 100,000 jobs.
Reason for Optimism
Experts said public and private projects currently in the works in the cross-border area provide reason for optimism about the region's economic prospects.
A cross-border private partnership called Otay-Tijuana Venture LLC, which includes Chicago-based Equity Group Investments and Mexican developers, recently started construction on a $120 million pedestrian bridge linking Otay Mesa with Tijuana International Airport.
Set for completion in summer 2015, the facility known as Cross Border Xpress will give ticketed airline passengers access from the U.S. side of the international border to the Tijuana airport on the Mexican side. It is expected to serve 2.4 million air passengers annually and help reduce vehicle traffic at the current land ports of entry.
Also in Otay Mesa, Brown Field International Business LLC, which includes developer Richard Sax, has received San Diego city approvals for what would eventually be nearly $1 billion in new amenities at the city-owned Brown Field Municipal Airport.
Plans for that project include new hangars, an executive jet aviation support facility, two business hotels and related retail and restaurants, spanning 331 acres and slated to be built in several phases over the next 20 years.