Median Housing Price in County Is $445,000 for September
Monday, October 13, 2014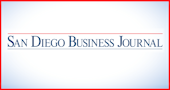 The median priced house in San Diego County in September cost $445,000, down 0.78 percent from the median priced house in August, according to the latest CoreLogic Dataquick residential report.
Over the 12 months to September 2013, the median priced house in the county rose 5.5 percent from $422,000.
Home sales in the county last month were flat at 3,322, down by two sales from the amount in August, and down 1.8 percent from September 2013, the report said.
For the overall Southern California, six-county region, the median price on a single family house last month was $413,000, up 8.1 percent from September 2013.
The largest increase over the 12 months was in Riverside where the median rose 9.7 percent to $295,000.
Sales for the region picked up last month, with the total at 19,348, up 2.9 percent from August, and up 1.2 percent from September 2013.
While the trend in sales is positive, it's still well below the average for September, or about 23,700.
Price appreciation slowed to single digits for all six counties last month, the first time that's happened since June 2012. The factors contributing to this are more would-be buyers getting priced out, fewer investor buyers, and static incomes, said CoreLogic Dataquick's analyst Andrew LePage.
"The good news for those looking to buy a home now is that mortgage rates remain very low in an historical context, and we're past the peak home-buying season," he said. "Today's home shoppers are more likely to find a less-crowded market with fewer, intense multiple-offer situations and more serious, realistic sellers."