Dallas Firm Buys Carlsbad Retail Center for $31.6 Million
Monday, October 13, 2014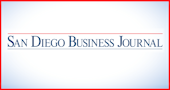 AG-CP La Costa Owner LP, an affiliate of Dallas-based Centennial Real Estate, has purchased the La Costa Town Center retail property in Carlsbad for $31.6 million, according to Flocke & Avoyer Commercial Real Estate.
The brokerage and real estate services firm represented the seller, Excel GIV La Costa Owners LLC, an affiliate of San Diego-based Excel Trust Inc. La Costa Town Center is a 120,000-square-foot shopping center located at 7710-7770 El Camino Real, at the intersection with La Costa Avenue.
Flocke & Avoyer's Brian Quinn and Brad Williams represented the Excel affiliate, and the buyer represented itself.
According to CoStar Group and public data, Excel Trust purchased the property for $23.5 million in 2012. La Costa Town Center was originally built in 1982 and consists of six buildings.
-- Lou Hirsh