Securities Filings Show Salary and Possible Bonuses for Cohu's Newly Named Leader
Sunday, October 12, 2014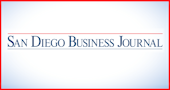 Cohu Inc.'s new chief executive will have an annual base salary of $410,000 and will be eligible to make up to that same amount in a year-end bonus, according to a securities filing.
Luis Müller, 44, will take his new job as CEO on Dec. 28. Cohu (Nasdaq: COHU) makes equipment used in the process of manufacturing microchips.
Müller will also be in line for $970,000 worth of restricted stock units over four years. Half will vest based on performance and half will vest as time passes.
The executive will earn his bonus by meeting certain performance objectives, the securities filing said.
Müller is being promoted from his job as president of Cohu's Semiconductor Equipment Group. He earned his doctorate in mechanical engineering from the Massachusetts Institute of Technology.
Cohu said that current President and CEO James Donahue told the board on Oct. 7 that he wanted to retire at the end of the fiscal year.
Donahue will be executive chairman, earning a base annual salary of $210,000 and a target annual bonus of that same amount. He will also be in line for an equity compensation grant of $473,560. Donahue's employee benefits package will continue.