BIOTECH: BUY IS PART OF RECENT CONSOLIDATION TREND
CareFusion Being Sold To BD in $12.2B Deal
Friday, October 10, 2014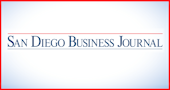 In the second biggest sale in San Diego life science history, New Jersey-based medical equipment supplier Becton, Dickinson and Co. has agreed to purchase San Diego-based CareFusion Corp. for $12.2 billion.
The deal valued the local medical technology company at $58 a share — $49 in cash and 0.0777 of a share of Becton for each share of CareFusion. This would represent a premium of 26 percent to the closing price of CareFusion's stock on October 3 ─ which happened to be a 52-week high. The company's share price has increased over 17 percent in 2014 alone, and has spiked over 26 percent in the previous 12 months.
The deal is set to close in the first half of next year, assuming it passes any regulatory or shareholder hurdles.
This proposal is the latest in a long line of multibillion-dollar health care deals seeking to consolidate medical technology companies. The surge in consolidation may reflect how medical device makers are trying to adapt to major changes in how hospitals do business.
Hospitals and clinicians are CareFusion's primary customers. Becton and CareFusion make products such as catheters, tubes and pumps that hospitals use to deliver medicines to patients. Both companies have also tried to help hospitals manage their drug use to eliminate waste and errors.
By combining, the companies hope to be able to provide a fuller range of supplies and also the tools medical facilities need to cope with health insurers, who are pressing them to curb spending and provide better, more cost-effective care.
'Pressures Are Intensifying'
"Hospital needs are certainly driving this," Vincent Forlenza, Becton's chief executive, said to the Wall Street Journal. "Pressures are intensifying as health care spending comes under more pressure ─ not just in the U.S. but around the globe."
CareFusion said the company hopes the deal will boost international sales. About 77 percent of CareFusion's sales are currently in the U.S., while more than 50 percent of Becton's revenue comes from overseas sales.
"As part of Becton, we see new growth opportunities for our products in global markets, new value we can create for our customers and new opportunities for our employees as part of what will become one of the largest global leaders in med-tech," said Kieran Gallahue, CareFusion chairman and chief executive officer.
Local Impact Is Unclear
While Becton stated that it is committed to maintaining an active presence in San Diego, a CareFusion spokesperson for the local company said the integration planning process was just getting underway. It is unclear if or when operations and staff could be affected.
"When you have companies of this size consolidate operations, it is common to have jobs added in some areas and jobs reduced in other areas," said Kristen Cardillo, a spokesperson for CareFusion. "For the vast majority of our employees, this merger will provide excellent career opportunities."
The deal has, of course, already inspired some shareholders to question CareFusion's motive behind the consolidation effort. Block & Leviton LLP, a Boston-based law firm representing investors, is currently investigating possible breaches of fiduciary duty by the board of directors of CareFusion regarding the proposed acquisition.
Due to impressive fourth quarter revenue results, and a growth trajectory that indicated good momentum for fiscal 2015, the law firm is seeking to determine if CareFusion failed to maximize shareholder value by pursuing the acquisition.
CareFusion was spun off from Cardinal Health Inc. in August 2009. In April, CareFusion paid out $40 million to settle Justice Department allegations over sales and marketing practices and alleged kickbacks to doctors for promoting uses of products not approved by the U.S. Food and Drug Administration.
The Becton merger could result in a $33.2 million change-of-control payout for CareFusion CEO Gallahue, according to the company's annual proxy.
Gallahue, who joined CareFusion in 2011, received compensation valued at $10.8 million in the latest fiscal year and gained an additional $18.5 million from vested shares and exercising stock options.