DEFENSE: REGION LEADERS PREPARE FOR NEXT ROUND OF CUTS
BRAC Looming On Budget Horizon
Friday, October 10, 2014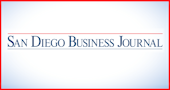 Pressure is building for a new military base closure round, perhaps in the post-election years of 2017 or 2019.
At best, the exercise might be a repeat of 2005, putting San Diego through the wringer of scrutiny and data collection, but giving the region some rewards at the end. The Pentagon might perform a shuffle that transfers units or offices to San Diego County bases. Or it might leave bases intact.
At worst, the Pentagon could move one or more bases out of San Diego — costing the area jobs and eroding total military spending which, in fiscal 2014, was estimated at $25.2 billion.
San Diego is billed as the largest concentration of military forces in the country, with collection of U.S. Navy and U.S. Marine Corps bases.
While not in the immediate future, base closures are on civic leaders' minds.
A delegation of San Diego business and political leaders sought details on the matter during a San Diego Regional Chamber of Commerce-led trip to Washington, D.C., in September, according to Matt Sanford, a staffer specializing in military issues at the San Diego Regional Economic Development Corp.
Sanford said he expects the next base closure round to be in 2017 or 2019; Congress has "no stomach for it" now, he said.
The 2015 defense bill — which has yet to be passed — might call for a first step in that process by having the Defense Department take inventory. "Congress could see where efficiencies are or aren't," Sanford said.
Pentagon Seeks Closures
The Pentagon has asked for a base closure round in the last three years of budget requests, he added.
Separately, in early October, speakers at a national defense conference spoke of the need to cut the nation's military base infrastructure to get federal spending in line.
They included Arnold Punaro, a former SAIC executive and chairman of the National Defense Industrial Association. While acknowledging external threats to the United States, Punaro said there are "internal threats" such as increasing debt and runaway spending.
The Pentagon budget is getting heavy on pay and benefits, said Punaro, who spent 26 years on the staff of now-retired Sen. Sam Nunn (D-Ga.).
"We can't allow the Department of Defense to become a benefits company that occasionally kills a terrorist," he said.
Another speaker, Joseph Collins, had similar thoughts, saying military health care spending was "pretty much out of control" and that the defense budget was becoming "increasingly entitlement-driven."
Both speakers made their comments at the Medill National Security Journalism Initiative Conference in Washington.
Both said the United States had to close bases. Punaro said excess capacity was 20-25 percent; Collins put the figure at 30 percent and perhaps 40-50 percent.
The process of shutting down bases is called BRAC, short for Base Realignment and Closure. The last rounds were in 1988, 1991, 1993, 1995 and 2005.
'No-Win Situation'
Congress hates the BRAC process because it's a no-win scenario, said Collins, a former Pentagon executive and current professor at Washington's National Defense University.
The closure process costs billions of dollars. While the end result saves tens of billions, he said, the savings are "invisible," disappearing into the broader Pentagon budget.
"No one writes you a check," Collins said.
Erik Bruvold, who worked to preserve San Diego's base structure during the 2005 BRAC as a political staffer, said that another reason leaders want to close bases is that they are best suited for past conflicts, such as World War II and the Cold War. If the military was to build an entirely new base infrastructure from scratch, he said, it would not look like it does today, he said. Bruvold is now president of the National University System Institute for Policy Research.
San Diego leaders are fond of saying that the local Navy and Marine Corps infrastructure is essential and ought to weather a BRAC storm. At least one speaker at the Medill conference in Washington seemed to back up that assertion.
Collins argued that the government should put more money toward special operations and cyber operations. San Diego would seem to benefit from that sort of thinking. Coronado is an important point in the Navy SEAL community, and Point Loma and Old Town are home to Spawar, a Navy command that employs thousands of cyber-security professionals.