Cohn Breaks Ground on $10 Million Restaurant at Harbor Island
Wednesday, October 8, 2014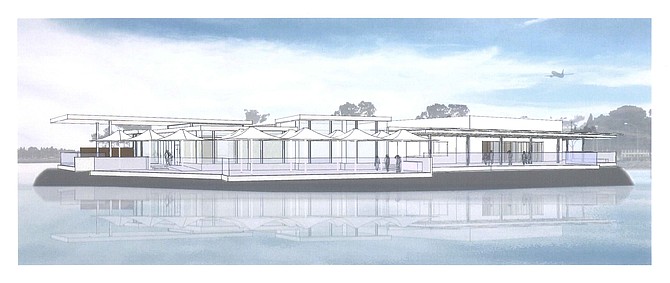 Cohn Restaurant Group of San Diego has broken ground on a new restaurant at Harbor Island, with an expected development cost of at least $10 million and set for a spring 2015 opening.
Officials said the yet-to-be-named restaurant, serving "Modern Mexican" cuisine, is planned for a site at 880 Harbor Island Drive, adjacent to the company's existing Island Prime and C-Level restaurants on the east end of Harbor Island. The location is the former site of the Reuben E. Lee paddleboat restaurant.
Cohn Restaurant Group is partnering on the project with Sunroad Harbor Island Inc., a unit of San Diego-based developer Sunroad Enterprises.
The 24,000-square-foot restaurant was designed by Gensler and the late architect Graham Downes. It will include indoor and outdoor dining, banquet and event space for gatherings such as weddings, and panoramic views of San Diego Harbor.
The full-service restaurant will seat up to 322, with more than 50 percent of its seating outdoors, officials said. The restaurant's event center will accommodate more than 1,000 guests on a floating event deck and more than 300 seated in the banquet room.
"There's a tremendous desire by San Diegans and those who visit the city to be on the water – not near the water, or with a view of the water, but directly on the water," said company founder David Cohn, in a statement.
Headquartered in Old Town, the privately held Cohn Restaurant Group was started in 1982 by David and Lesley Cohn. The company operates 22 restaurants in San Diego County and two in Hawaii.